MOSCOW, December 2 – RIA Novosti, Vladislav Strekopytov. The U.S. Food and Drug Administration (FDA) has given Upside Foods permission to sell meat grown from animal stem cells. So far, this applies only to one product – artificial chicken. Hundreds of startups are waiting in line.
meat revolution
Cultured meat is a hot topic in recent years. Supporters of this are based on the fact that consuming the meat of slaughtered animals is unethical and also increases harmful emissions into the atmosphere.
In order to change the situation and at the same time not give up the animal protein necessary for the body, it is recommended to establish industrial meat production from the test tube as soon as possible. This is not about a plant substitute that has long been sold in stores, but about a synthetic product created on the basis of natural animal cells.
Scientists have repeatedly proven the possibility of producing artificial meat from stem cells in special bioreactors. In principle, the process is no different from growing tissue for transplantation. Cell lines are isolated from an animal muscle sample, which is then propagated in a special nutrient medium where the stem cells develop into muscle fibers.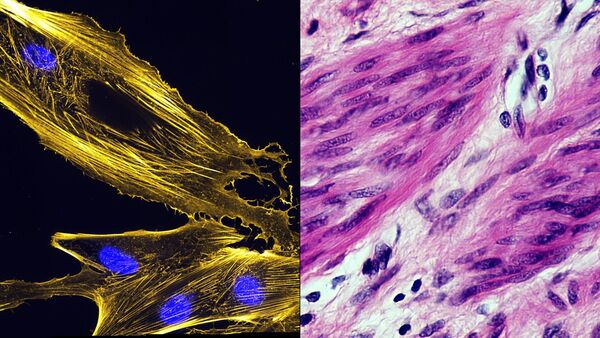 Stages of formation of artificial muscle tissue: on the left – myoblasts, precursors of muscle cells, their fibers are shown in yellow, and nuclei – in blue; right – artificial tissue consists of a nutrient medium on a three-dimensional frame
Bioreactors are large isothermal vessels fed with a nutrient medium containing hormones and growth factors. It provides the necessary conditions for the proliferation and differentiation of stem cells. The mixing system ensures the homogenization of the environment and the diffuser-aerator provides oxygen supply.
Usually newly formed cells are removed as a suspension, but they can be deposited on a pre-prepared organic scaffold. Then they get artificial meat that looks like real meat. Scientists from Harvard University, using gelatin base, raised meat indistinguishable from natural, even at the microscopic level, from the muscle cells of a rabbit and a cow.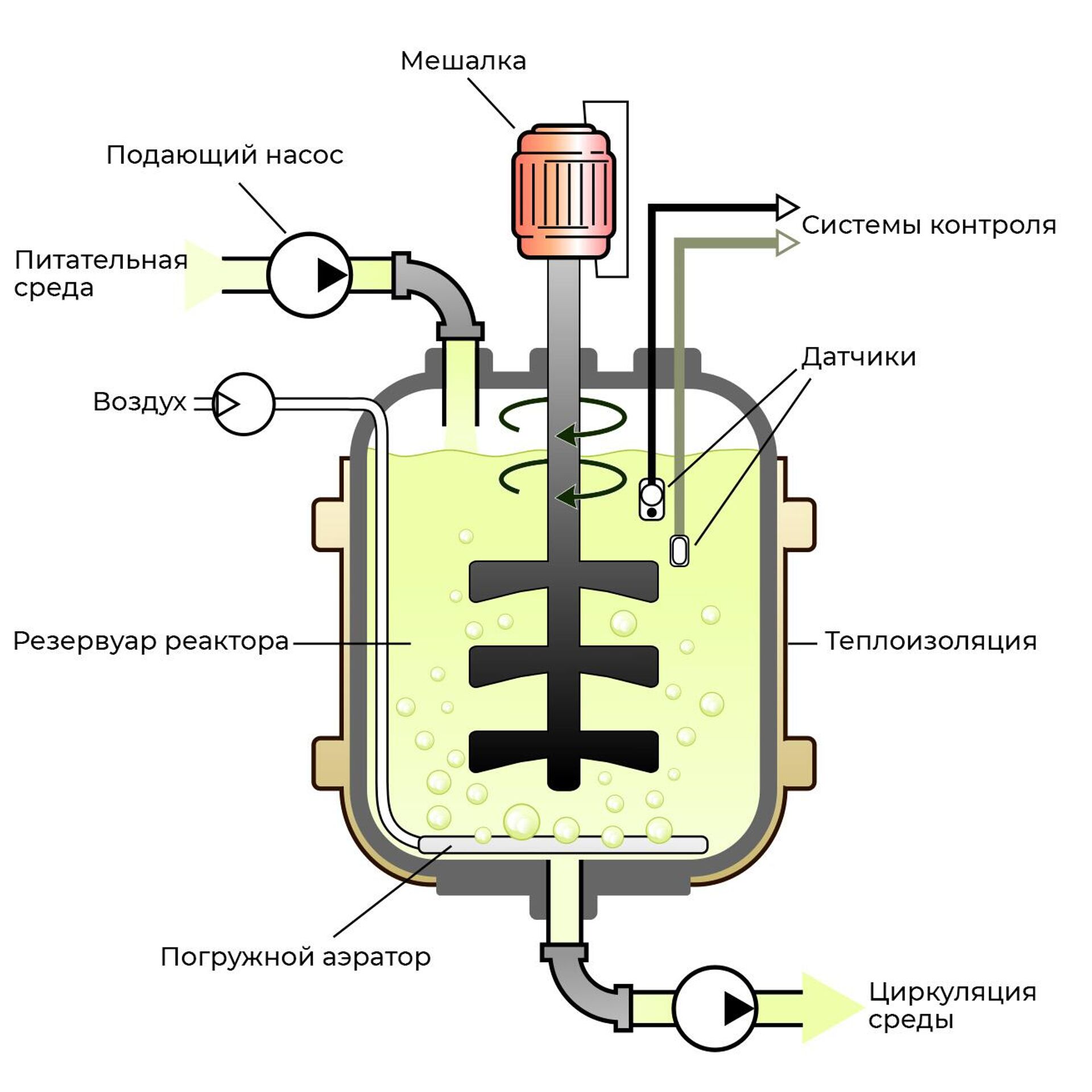 Schematic diagram of a bioreactor for cultured meat production
Burger for 330 thousand dollars
The fact that it was theoretically possible to grow meat under industrial conditions was discussed more than 80 years ago, when the technology for growing cell lines emerged. Winston Churchill wrote in the 1931 futurological article Fifty Years Later: "By creating these parts separately in a suitable environment, we will avoid the absurdity of raising a whole chicken for breast or wing consumption. Synthetic food. <…> it will be practically indistinguishable from natural products.
Artificial muscle fibers were first obtained in the laboratory in 1971. But active research only began in the mid-1990s, after the FDA formally approved a NASA-developed technology to provide long-term nutrition to astronauts in space. In 2008, an international consortium was formed for in vitro meat production, and in November 2009 Dutch scientists announced that they had succeeded in growing the first specimen in the laboratory using cells from a live pig.
August 5, 2013 is considered the official date for the launch of a new product on the commercial market – Professor Mark Post from Maastricht University then presented the first hamburger with 140 grams of cultured meat on air. Google co-founder Sergey Brin invested more than $330,000 in the implementation of the project.
In September 2019, the Ochakovo Food Components Plant announced the creation of the first artificial meat cutlet in Russia. It took 900 thousand rubles two years to produce 40 grams of minced meat for him. The basis was a small piece of muscle tissue of a newborn calf.
The developers claim that, subject to the determination of the legal status of the product, domestically grown meat may appear on Russian shelves by 2023. According to the experts of the plant, one kilogram will be sold for about 800 rubles.
"There are many startups in Russia that grow meat from stem cells," says Vitaly Shmalts, food market specialist and founder of the Food Up business accelerator. "As far as I know, few companies approve it. The estimated time for obtaining certificates is April-May 2023- go".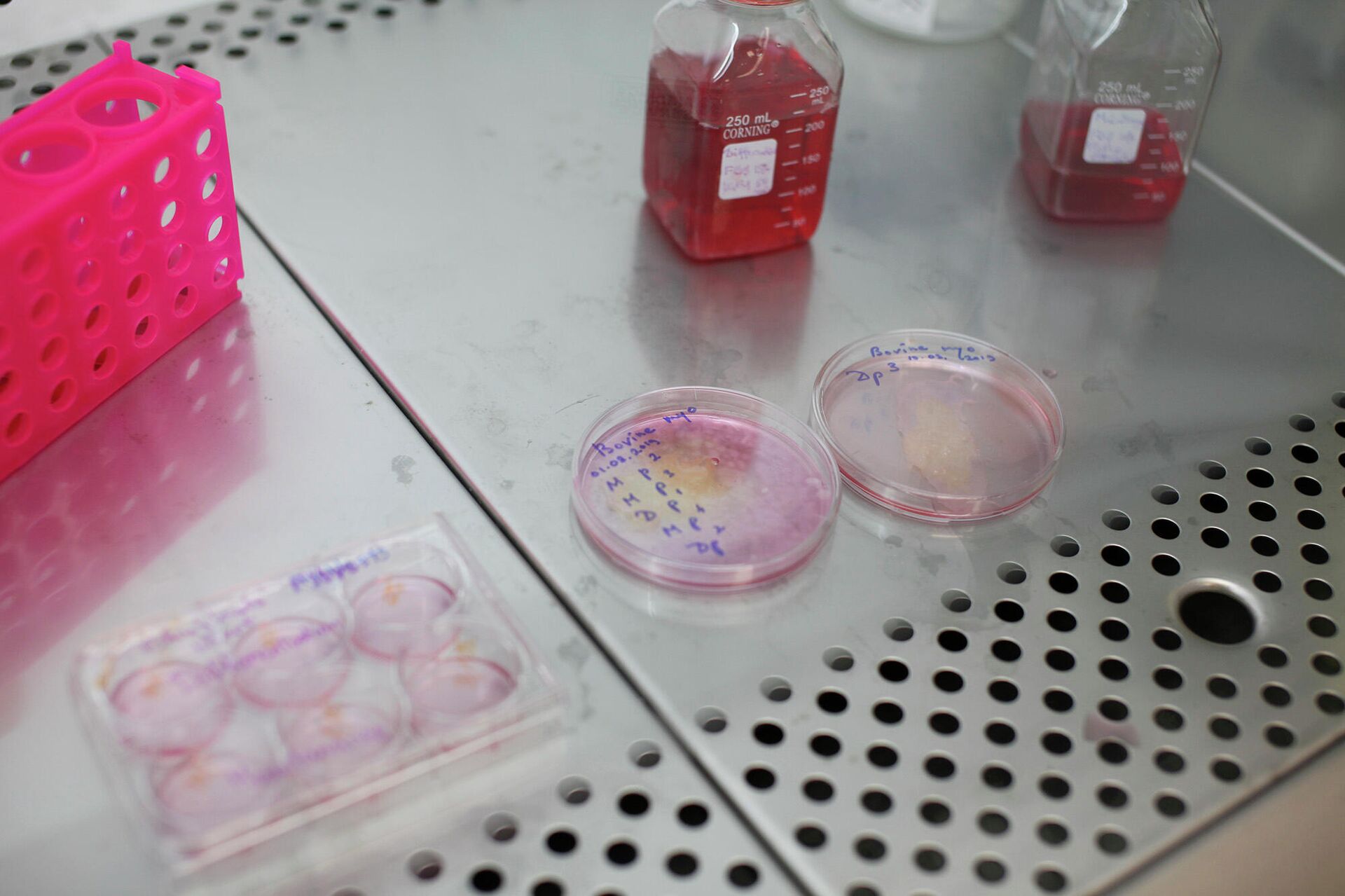 Petri dishes with artificial meat
Gates, Musk and Branson are already at work
There are currently about 170 companies working with cultured meat around the world. Some have managed to attract significant investment and have launched a real leadership race in an emerging market estimated to be worth billions of dollars.
In November 2020, Israeli SuperMeat opened a test restaurant next to its pilot factory in Ness Zion. Journalists, experts and a few ordinary consumers had the opportunity to try new dishes while looking through the glass window at the production process. That's right, everyone had to sign a liability waiver because the company didn't have time to get regulatory approval.
In December of the same year, American Eat Just, the world's largest natural food substitute manufacturer with a capitalization of more than one billion dollars, began selling cultured chicken nuggets at restaurants in Singapore. This is the first state in the world to give official permission for test tube meat. The product safety review took two years.
Inspired by the success, Eat Just decided to expand its production capacity. At that time it only had a 1200 liter bioreactor. As early as May 2022, the company began construction in the United States of the ten largest complexes of bioreactors in the world, each with a capacity of 250 thousand liters – far more than all that exist today. According to the plan, the business will be operational by the end of 2024 and will have an annual capacity of 13,000 tons of artificial chicken and beef by 2030. This is enough to supply tens of thousands of shops and restaurants worldwide.
However, almost at the finish line, that is, in the process of getting approval for sale from the FDA, Eat Just was ahead of another American company – Upside Foods (formerly Memphis Meats), which is partially owned by Tyson and Cargill. , two of the world's largest meat companies. In November 2021, it opened the first small factory for cultured meat production with a capacity of approximately 22 tons per year.
Upside Foods' investment activity is impressive, raising $400 million in just one round in April of this year. Bill Gates, Richard Branson, Susie and Jack Welch, Elon Musk's brother Kimbal Musk and the largest venture capital funds have already become shareholders.
FDA approval is only the first step towards marketing authorization for the product itself. To begin work, a favorable opinion is required from the United States Department of Agriculture (USDA), which must verify production capacity. It is also necessary to standardize and label products. However, company representatives believe these two steps will take much less time than FDA approval.
High prices of grown products remain a limiting factor, but this factor quickly adapts to market conditions. It's now around $90 per kilogram, but experts say it could at least halve within a year. On the other hand, businesses under construction will go down to a completely natural level when they reach the planned capacity. Then the choice between natural and artificial meat will be determined solely by the taste preferences of the consumer. Or their ideas about the safety of the product.
cellular agriculture
Manufacturers claim that cultured meat does not pose any health risks, but rather has benefits. There are many harmful bacteria and parasites in the animal body that do not always disappear after heat treatment, and the product out of the test tube is the result of sterile production.
It also does not contain antibiotics fed to animals on farms. As well as saturated fats that cause high cholesterol, heart disease and obesity. Pure muscle tissue – but because of this, there is also no juicy taste, which many people love fried meat.
"In terms of the effect on the human body, cultivated meat is absolutely similar to ordinary meat," says Alexei Kabanov, deputy director of the ANO Research Center "Healthy Nutrition". "The main argument in favor of its production is that it is less harmful to the environment than conventional livestock, and also in vitro It keeps the meat fresh for a longer period of time as it is produced under sterile conditions and does not contain microorganisms."
The regulatory authorities of most countries, including Russia, are still wary of the new product. According to experts, artificial meat may contain excessive amounts of hormones or growth factors whose health effects are not fully understood, and plant-based media may cause allergies in some consumers.
But despite bureaucratic hurdles, cultured meat advocates are optimistic. They are sure that in the near future a new branch of economy will appear in the world – cellular agriculture.
Source: Ria
I am Emma Sickels, a highly experienced journalist specializing in news and economy. As an author at News Unrolled, I cover the latest trends in the economic sector and provide readers with valuable insights into its complexities. My work has been featured in various media outlets such as The New York Times, USA Today, Bloomberg Businessweek and many more.