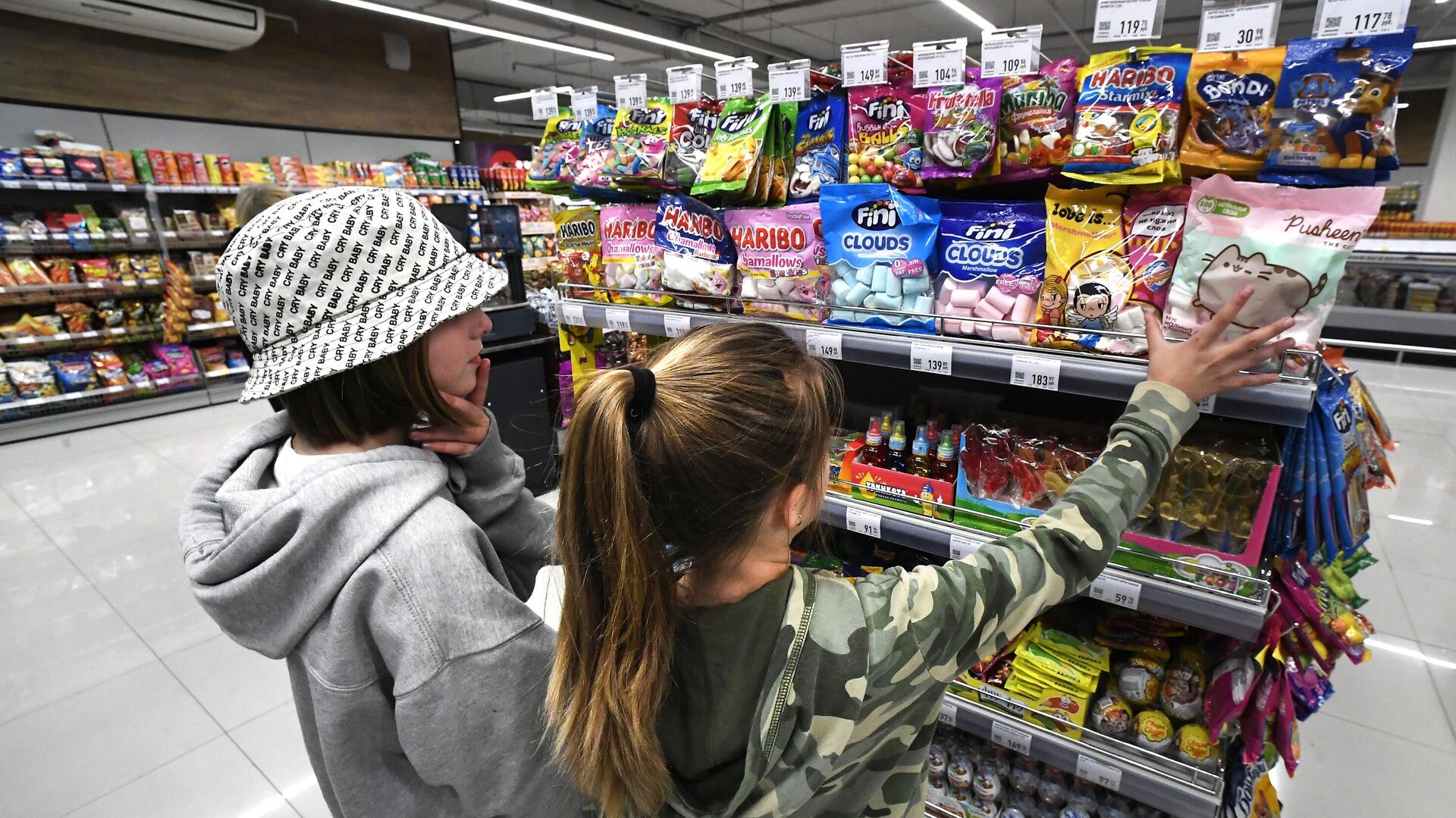 MOSCOW, June 9 – RIA Novosti, Irina Krasikova. The country is reducing the production of confectionery products due to disruption of supply chains. In addition, foreign raw material suppliers began to export less to avoid shortages. RIA Novosti understood how sweet prices will change.
skip dessert
According to Rosstat, production of chocolate, sweets and confectionery fell 15 percent year on year to 134.7 thousand tons in April. "They started exporting less to foreign markets. International companies operating in Russia refused to export products because of the sanctions," explains Mark Goykhman, chief economist at the TeleTrade information and analytics centre.
In March, supplies to the Middle East and Southeast Asia were restricted by American Mars (brands Mars, Snickers, Milky Way, Bounty) and Swiss Nestle (Russia, KitKat, Nuts, Nesquik).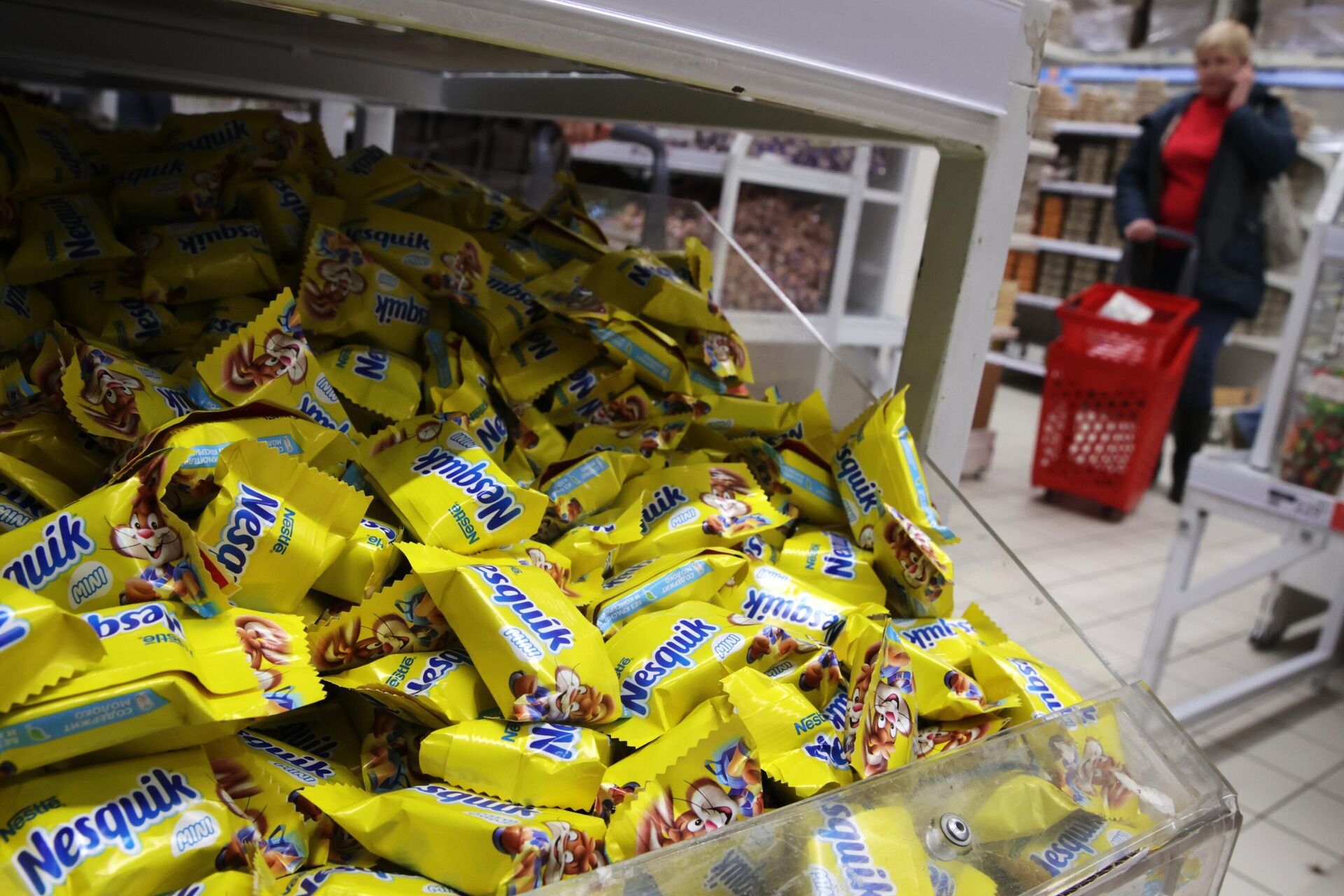 Sale of Nesquik sweets in one of the shops in Moscow
"This is difficult to change. World markets are dominated by big companies with well-known brands. It is not easy to throw them out: you need a cash injection into marketing, advertising, promotion channels," says the expert.
It also became more difficult to import raw materials to Russia. "Confectionery products have a sizable share of imports: cocoa beans, preservatives, sweeteners. Many countries are restricting their sales," said Artem Deev, head of analytics at AMarkets.
For example, at the end of April, Indonesia stopped exporting palm oil due to the shortage in the domestic market – in a month its price has almost doubled. Other goods followed.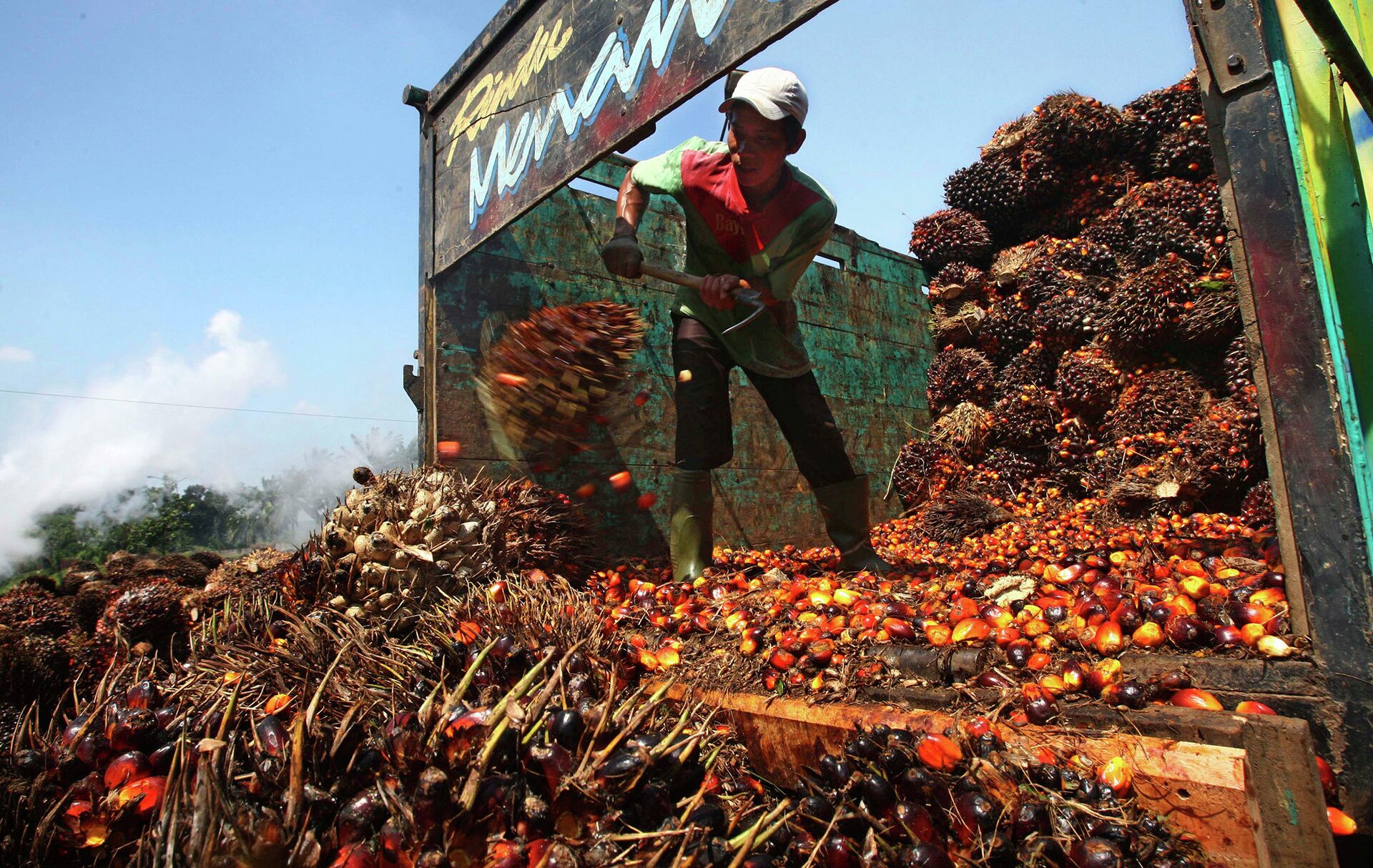 Raw material unloading at palm oil plant
The tropical ingredient is used almost everywhere: in products, cosmetics, cleaning products, biofuels.
Russian confectioners became addicted in the 1990s because of its cheapness. They bought it last year for $1.2 billion – almost 97 percent imported from Indonesia. Republic accounts for half of all world deliveries.
In addition to imports, less production was strained due to higher prices in stores. "Many of them save on groceries. They don't buy much. So-called 'impulse' purchases have declined sharply: bars, chocolate eggs at the register, stock items," Deev notes.
Now Russian businesses are looking for new markets. Vyacheslav Lashmankin, managing director of the Askond confectionery industry association, predicts that this will increase the loading of factories and restore production.
Confectioners are also planning to switch to completely domestic equipment. Currently, its share in factories ranges from 20 to 85 percent – particularly furnaces and stuffing machines.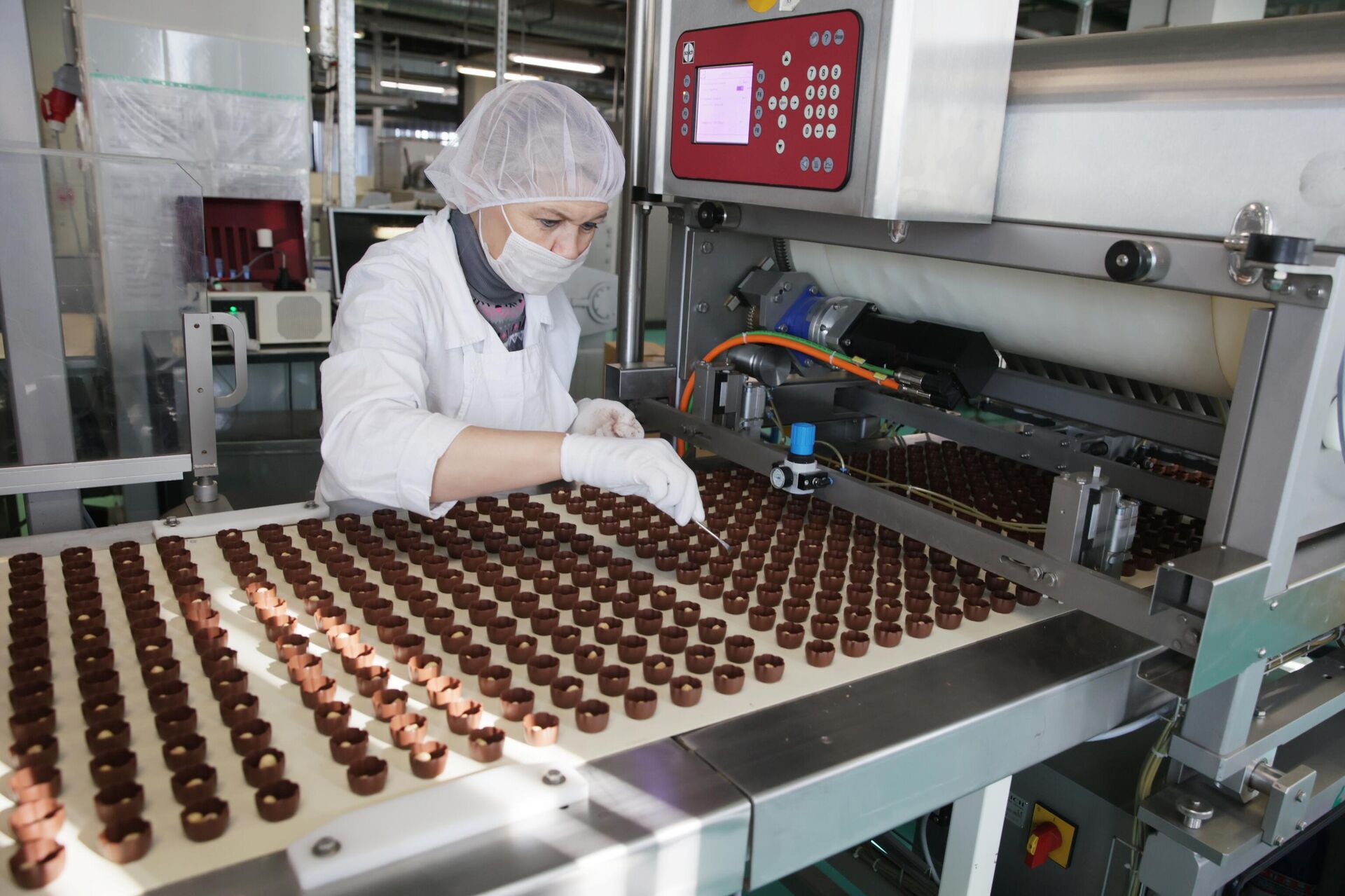 Confectionery production at a factory in Moscow
In addition, the involvement of Russian machine builders is required to ensure a margin of safety. Some enterprises, such as the Shebekinsky Machine-Building Plant, Bestrom, Kondmash and others, are already successfully coping.
Analysts say not to do without government support. Subsidies will accelerate import substitution and encourage producers.
looking for an alternative
The confectionery industry is one of the most actively developing sectors in the food industry.
Nearly four million tons of sugar were produced last year, which is three and a half percent more than in 2020. Moreover, they exceeded the "pre-Covid" indicator.
Russian chocolate is popular abroad. It is especially suitable for the taste of the Chinese who care about naturalness. The success of the delicacy is understandable: everyone hears horror stories about fake chicken eggs in Asia. And the price is also attractive.
China is a promising market. Analysts note that the product should only be promoted competently and creatively. Including the Internet. For example, thanks to a single video with a popular local blogger, you can sell chocolate products for several hundred million rubles.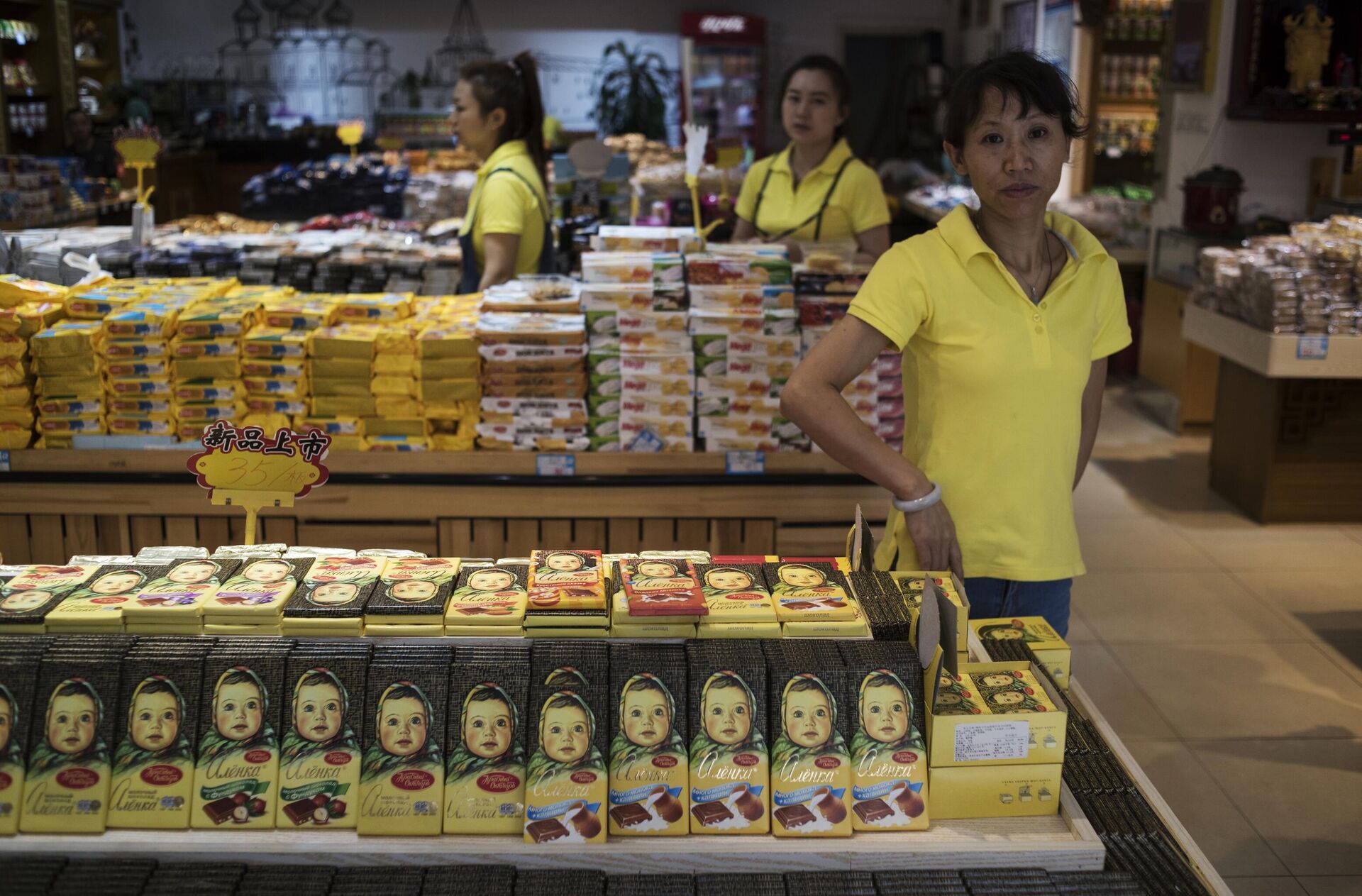 Sale of chocolate "Alenka" on the Russian street in the city of Dalian
Russian confectionery was not only solved by the Chinese. Domestic consumption has been growing for ten years – at a rate of one to three percent per year. Competition between businesses is also heating up. Quality comes first.
However, less sweets are bought in Russia than in other countries – an average of 25.2 kilograms per person per year. in England – 27, in Germany – 34.
The most popular flavor of Russians is slab chocolate. Every third person prefers it. Cakes are in second place, followed by pastries and desserts. About 40 percent of the population spends a thousand rubles a month on sweets. Third – up to two.
Analysts warn: in 2022, the sweet tooth will have to be pulled. Confectioners are forced to raise their selling prices: logistics and packaging costs increase. Also for materials whose price has increased by 43 percent since July last year. For example, margarine from the beginning of the year – up to 30.
Earlier, Mondelis (brands Alpen Gold, Milka and Barney) warned of a price increase of between nine and fifteen percent starting June 1. Shortbread biscuits will not stand aside – they will add ten to twenty percent.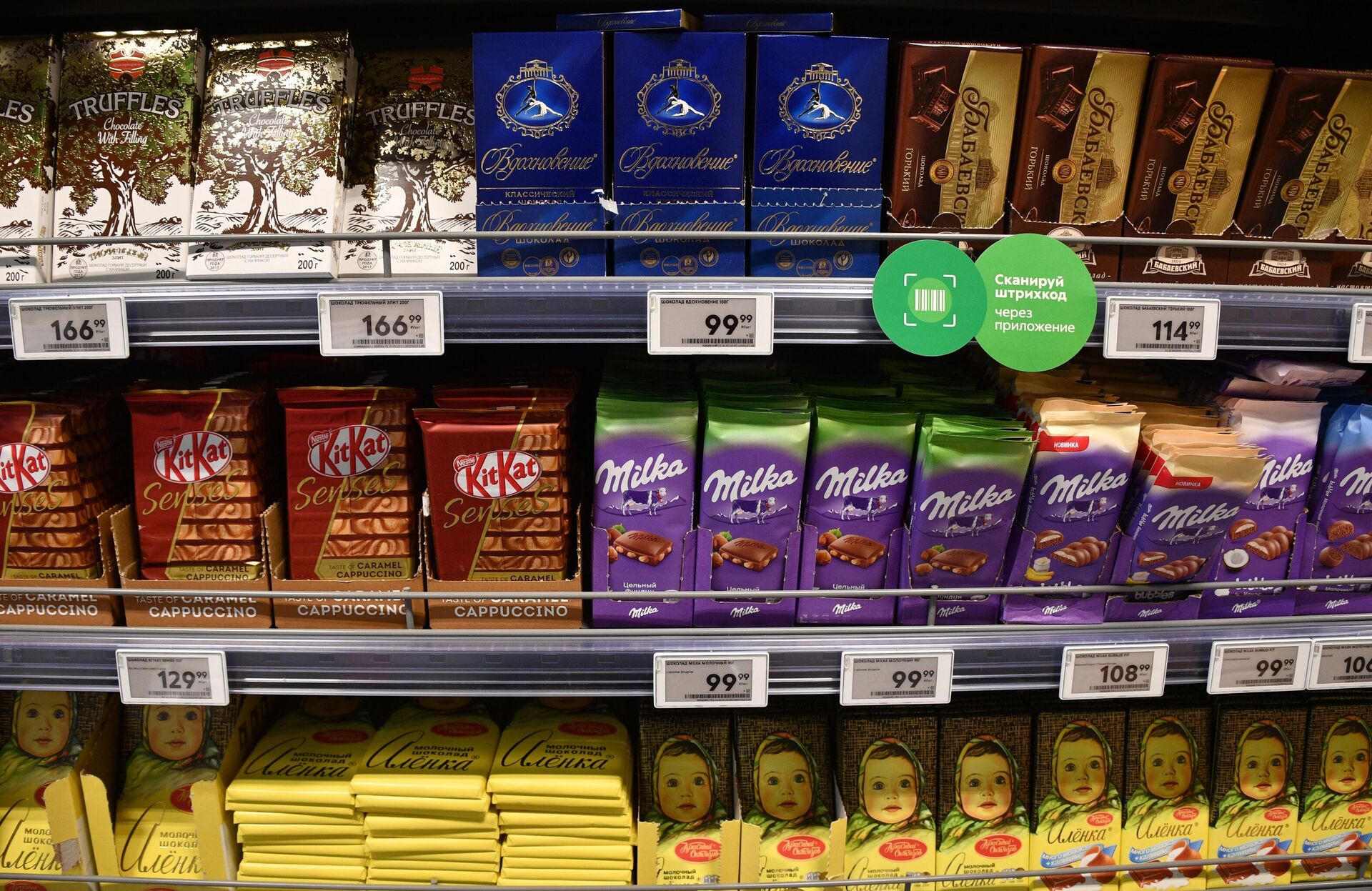 counter with chocolate
"If you find an alternative to sourcing, producers' costs will still go up. It costs several times less to buy raw materials from Europe than from China," says Artem Deev.
However, as retail prices increase, demand will fall. Therefore, the growth will not exceed 20-25 percent, says Mark Goykhman.
Inflation takes the world by storm
Goykhman states that accelerating inflation is a worldwide problem. What's more, it has even affected developed countries: it reached nine percent in the UK in April. In the USA – 8.3, in Germany – 7.4, in France it was closer to five. This has not been seen in the West since the 1980s. Gasoline and electricity prices especially hit pockets.
The reasons are the same: the global economy has not recovered after the "coronacrisis", supplies are dwindling.
Meanwhile, the West had a hand in the distribution of prices. Due to the extremely loose monetary policy in recent years, inflation in the USA and the EU has reached the highest level of the last 40 years.
Additionally, logistics has been disrupted – lockdowns in China and special operation in Ukraine affected. Fuel added to the anti-Russian sanctions: oil and gas prices soared. Brent has gained more than 50 percent since the beginning of the year. As a result, the price of gasoline in the United States rose sharply. Most importantly – in California: $6.3 per gallon.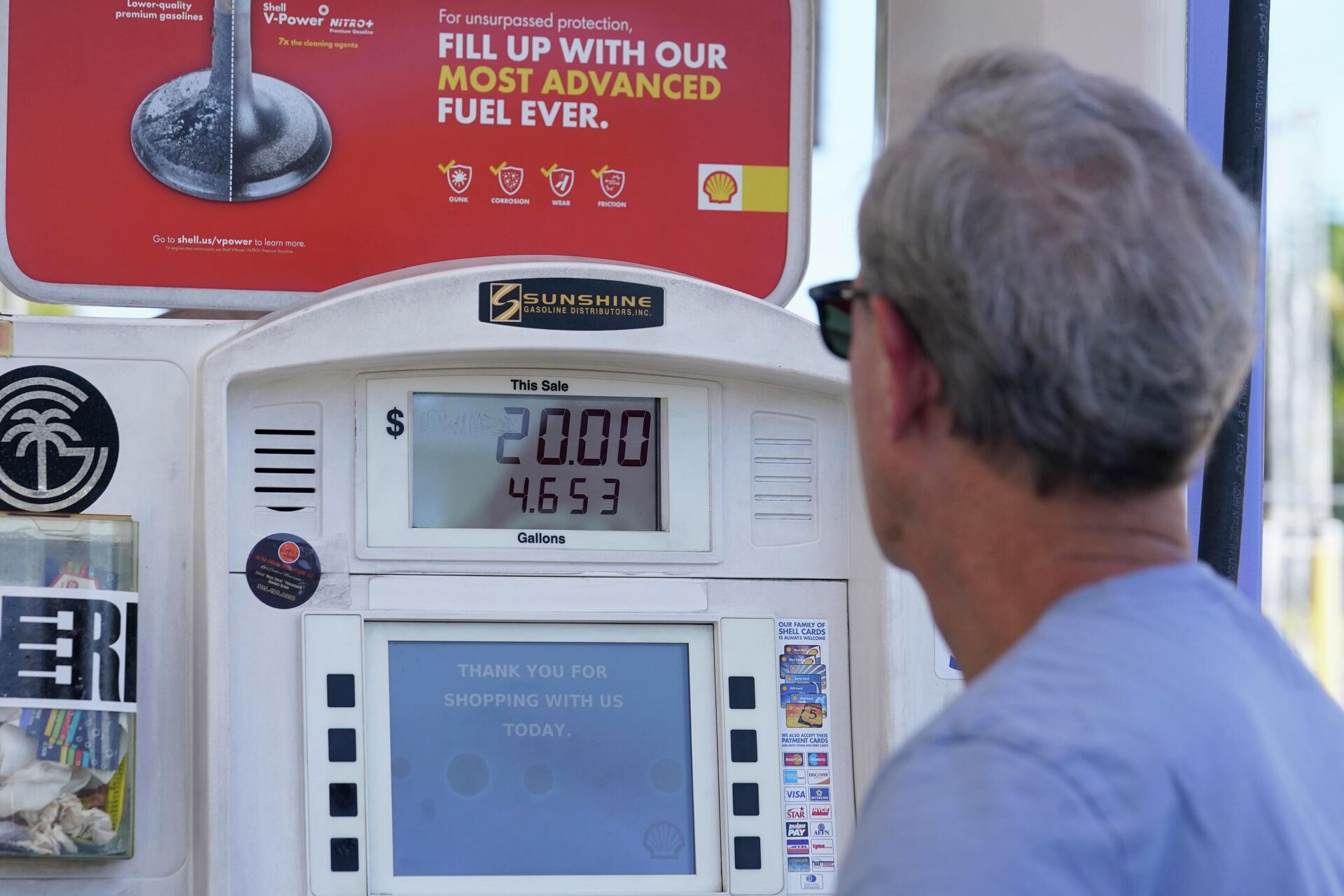 A man at a gas station in Miami, USA
US monetary authorities are trying to reduce inflation. In early May, the US Federal Reserve increased its key rate for the second time in a row. And immediately 50 basis points, down to 0.7-1 percent – for the first time in 22 years. The regulator is often very cautious and therefore often criticized.
Economists at major North American banks say it's only necessary to increase the rate to three percent to keep prices low.
Meanwhile, on May 26, the Central Bank of Russia lowered its key rate to 11 percent. The slowing growth of prices and the strengthening ruble made it possible to go for it. Analysts expect further easing of monetary policy. Weekly inflation remained at zero at the end of May. It slowed down to 17.3 percent annually.
The next meeting of the Board of the Central Bank of Russia will be held on June 10.
Source: Ria
With a passion for storytelling and reporting, I am an experienced writer and Editor with a focus on sports. As an Author at News Unrolled, I write engaging stories on the latest developments in the world of sports. My articles have been featured on numerous global media outlets and my work has been highly praised by renowned editors.