MOSCOW, June 28 – RIA Novosti, Elena Popova. After the introduction of unprecedented sanctions by the United States and the European Union, hundreds of international companies left Russia almost immediately. Logistics chains are broken, business ties are broken. Neighboring Belarus is ready to help get rid of the crisis. RIA Novosti understood what Minsk would offer Moscow.
key competencies
Belarus has a great experience of living under sanctions. The Republic has faced Western restrictions for more than two decades. The most serious – after the next presidential election, which caused mass protests in the country.
At that time, dozens of companies were blacklisted, including Belaruskali, the world's largest fertilizer producer, as well as Belavia, Grodno Azot and Naftan.
Although many businesses lost their supply of foreign technology and materials, the business found plans to ship them, including to Moscow. Now that international concerns are over in Russia, that's impossible. Allied states are developing joint programs to overcome the crisis.
Russian President Vladimir Putin with St. After his meeting in St. Petersburg, Alexander Lukashenko instructed the government "in no case (Russia. – Approx. ed.) to refuse any of the regions." "Import substitution is the number one issue. And we agreed that we will strictly control this process," said Erdogan, adding that the main issue is to eliminate bureaucracy and bureaucracy.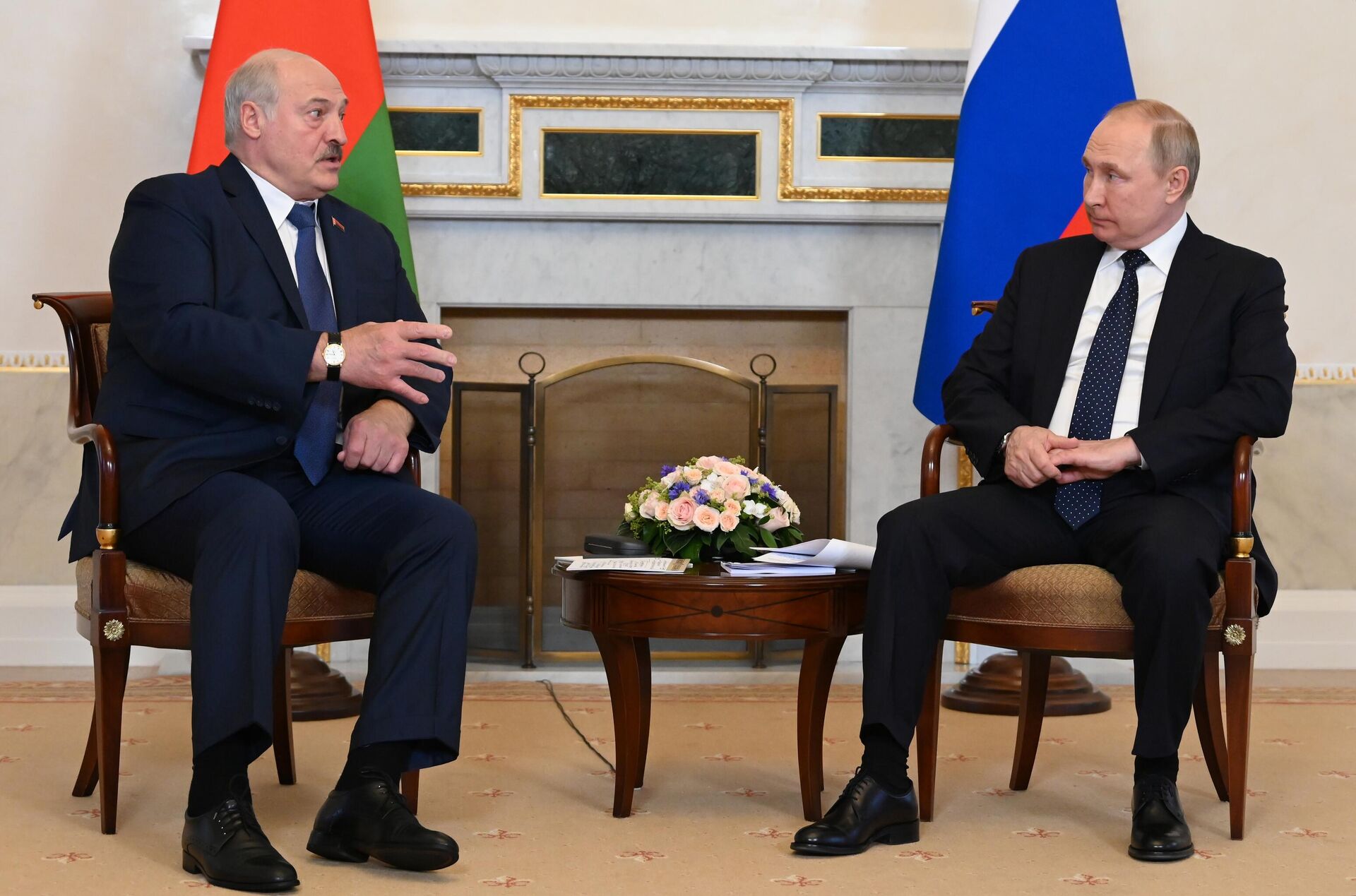 Russian President Vladimir Putin and Belarusian President Alexander Lukashenko met.
Moscow and Minsk cooperate closely in many fields. In the last four months, the republic has physically increased its exports to Russia by 30 percent. At the same time, in monetary terms, it grew by over one hundred percent in April alone, according to Bloomberg estimates.
"Russia buys agricultural products. Also, this is petrochemical products that find themselves in a Western blockade. Belarus processes oil products in refineries, and now some of them can be returned to Moscow," explains Belarusian political scientist Aleksey Dzermant.
Putin allocated $ 1.5 billion to Minsk for the implementation of import substitution programs. According to Dmitry Yaroshevich, Deputy Minister of Economy of Belarus, the country will be able to replace goods in Russia in the field of mechanical engineering and microelectronics.
air bridges
Experts from the NKR rating agency say that air travel suffers the most from Western sanctions. The industry has been affected by high import dependency, disruption of supply chains and labor shortages.
Take, for example, the Russian aircraft Sukhoi Superjet 100. The share of foreign components – especially the French – in it is estimated at 70 percent. The press service of the Ministry of Transport of Belarus has already stated that it is possible to establish the production of missing components on the territory of the republic.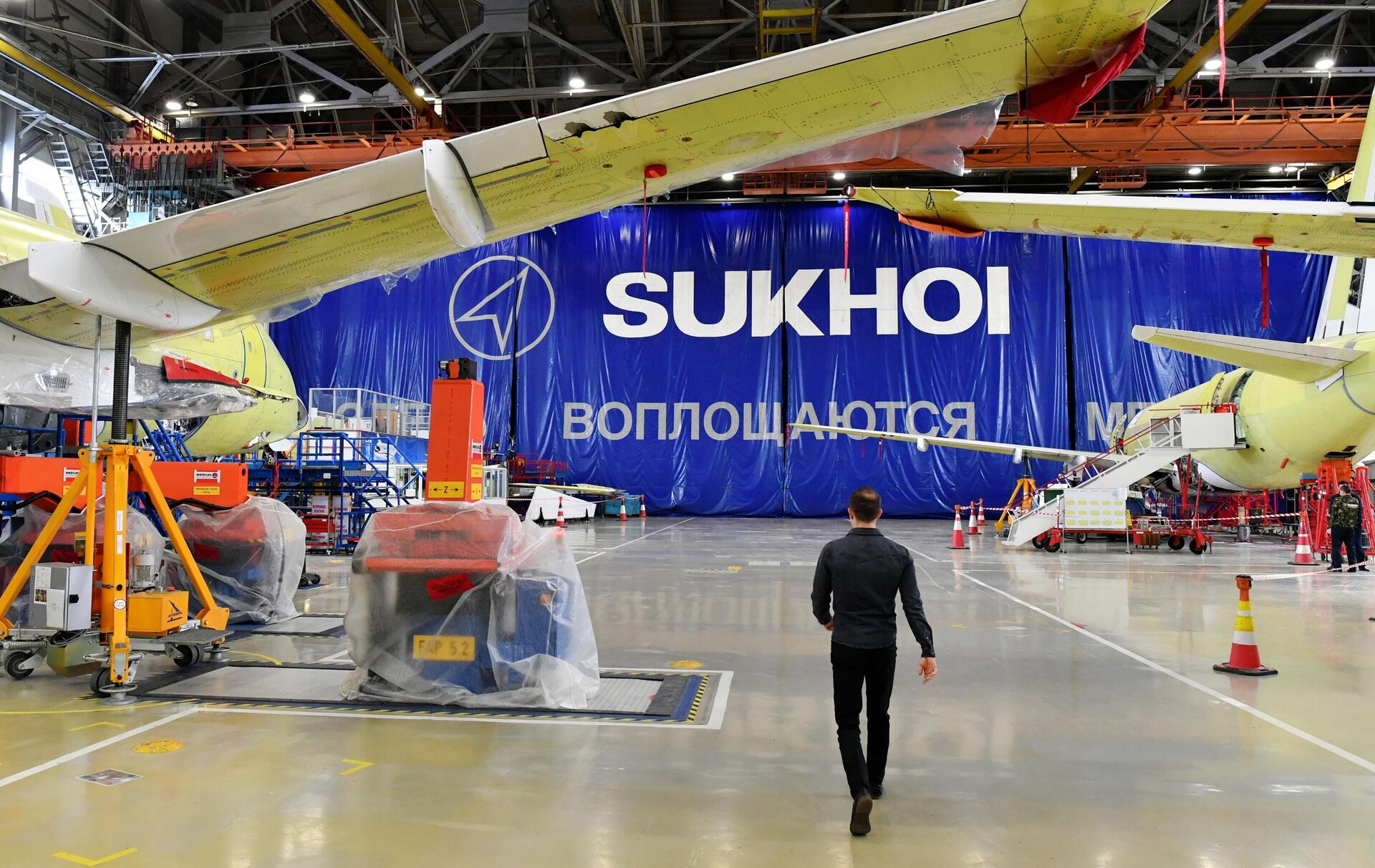 Sukhoi Superjet 100 aircraft in final assembly workshop
There are two enterprises in Belarus that can theoretically compensate for the lack of imported parts: the Minsk Civil Aviation Aircraft Repair Plant and the 588 Aircraft Repair Plant OJSC in Baranovichi, one of the largest in the CIS.
"Belarusians have a pretty strong optical-mechanical relationship, not bad with radio electronics, especially radar. There's no doubt that some components can be produced in Belarus. The only question is development volume and timing," he says. Automotive industry and Aviation expert Alexey Zakharov.
As for the time, it will depend on the specific task. Glass for a porthole is one thing, and a weather radar is another. But the expert estimates that even simple tasks can take up to a year and a half.
Tractors and dump trucks
PJSC KAMAZ was among the first to enter European sanctions. The auto giant faced a shortage of auto parts imported from Germany and the United States. The closest analogue in Belarus is the Minsk Automobile Plant (MAZ).
"Cooperation with Belarusians is a mutual pleasure and benefit. Firstly, MAZ has traditionally been strong on multi-axle platforms. Heavy trucks on the chassis on which military equipment is based are mainly produced in Belarus. Therefore, there is at least interaction in this direction. It is quite possible ", – says Zakharov.
Another challenge for the KamAZ plant is the cargo cabins on the K4 and K5 lines, which the automaker does together with Mercedes. Now Belarusians can replace the Germans. "There are many important things that don't need to be on the surface, but on these it is possible and desirable to partner with Minskers," says the expert.
In April, a meeting was held in Minsk between KamAZ general manager Sergei Kogogin and Belarusian Minister of Industry Pyotr Parkhomchik. "The mechanical engineering leaders of the two countries plan to combine efforts in the field of automobile production using unmanned and intelligent systems," the press service of the Russian auto plant said in a statement. Said.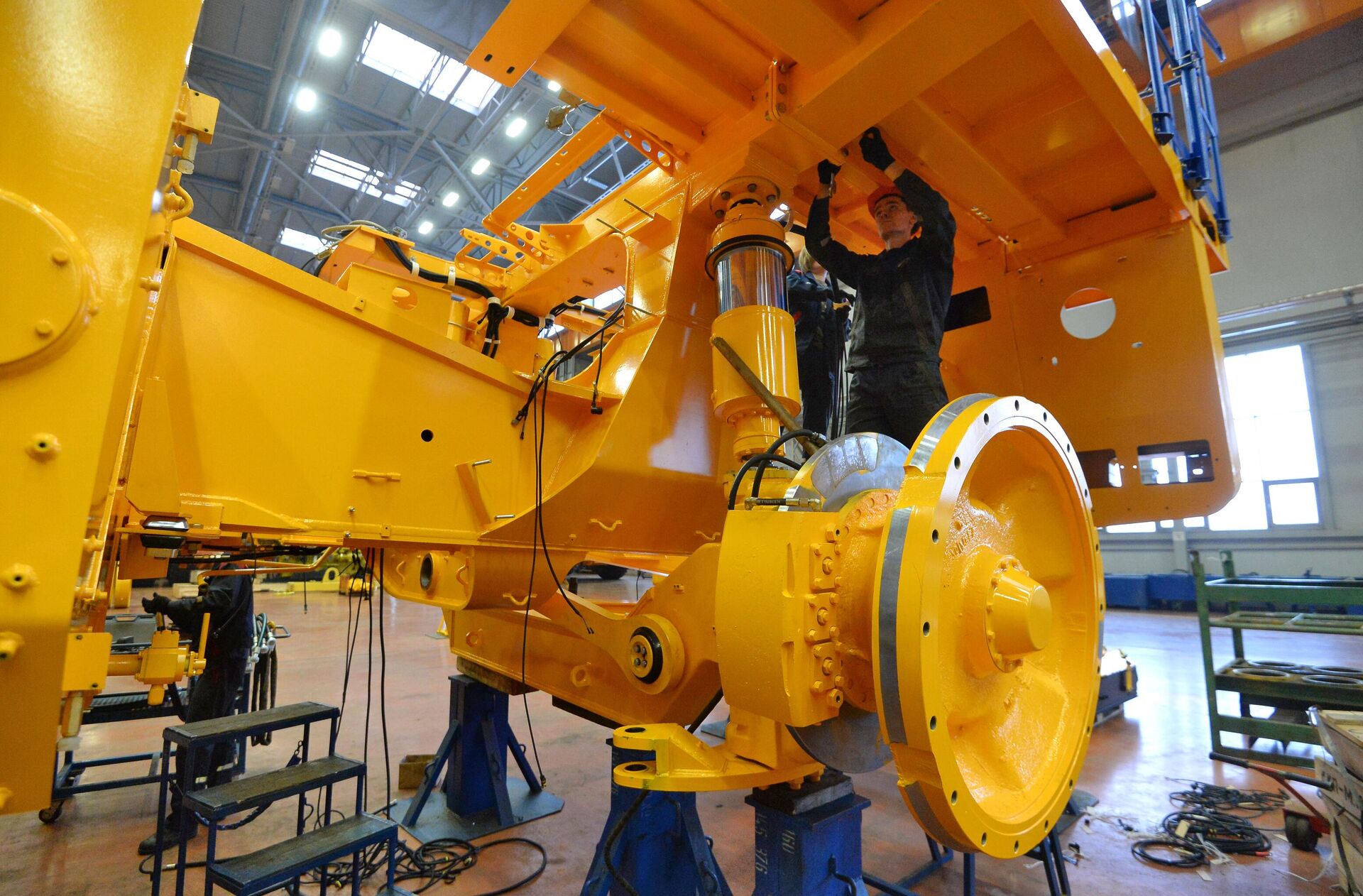 Production of heavy dump trucks at the BelAZ plant
By the way, MAZ has not yet officially announced the production of an unmanned truck. However, the company is working on an electric bus that will operate without human intervention. In turn, KAMAZ has experience working with similar projects – four years ago, such a truck rolled over the Crimean bridge.
Another promising area of ​​cooperation is mining dump trucks. Previously, the main competitor of BelAZ in the Russian market was the American Caterpillar, but recently announced its withdrawal.
"Now nothing prevents BelAZ from increasing its deliveries to Russia, the company can open assembly plants here," said Leonid Khazanov, an industry expert.
Reserves for the future
As President Vladimir Putin said at a meeting with young entrepreneurs, "one of the biggest blows to Russia" was Western sanctions targeting microelectronic imports. At the same time, Putin emphasized that Belarus has the necessary competence.
Recall that Baikal processors are made in Russia, but after the rupture of relations with the Taiwanese TSMC, their production was suspended. But even without this, Russian development has lagged behind the world market for decades. Ambitious plans include launching 28 nanometer production by 2030. The same TSMC already has a five-nanometer chip.
"The situation with microelectronics in Russia is not the best, I do not know a single large enterprise. It will be very good if Belarusians can organize the supply of all kinds of products," says Khazanov.
There are two special holdings in the republic – "Planar" and "Integral". These businesses have 60 years of experience creating microelectronic products.
"Belarus has made progress since Soviet times. It is clear that some of them are outdated. Others were not in demand. They can be revived and some Soviet technologies are still relevant," said Aleksey Dzermant.
According to him, this sector needs to be modernized and invested in order to keep up with the spirit of the age. It could be hundreds of millions of dollars.
"It is necessary to close critical areas: the defense industry and the banking sector. These are things that Russia cannot give foreign firms control of. It is better to invest in your reliable product than to then pay billions of dollars to Western companies. They also have the ability to close everything", I'm sure Dzermant.
From seeds to elevators
Belarusian manufacturer of refrigerators, Atlant, may also expand its presence in the Russian market. According to Khazanov, the company produces compressors that will be in demand "in light of the cessation of their imports from Europe."
Another potential area for import substitution is elevators. Mogilevliftmash is an alternative to European elevator manufacturers ThyssenKrupp Elevator," says the expert.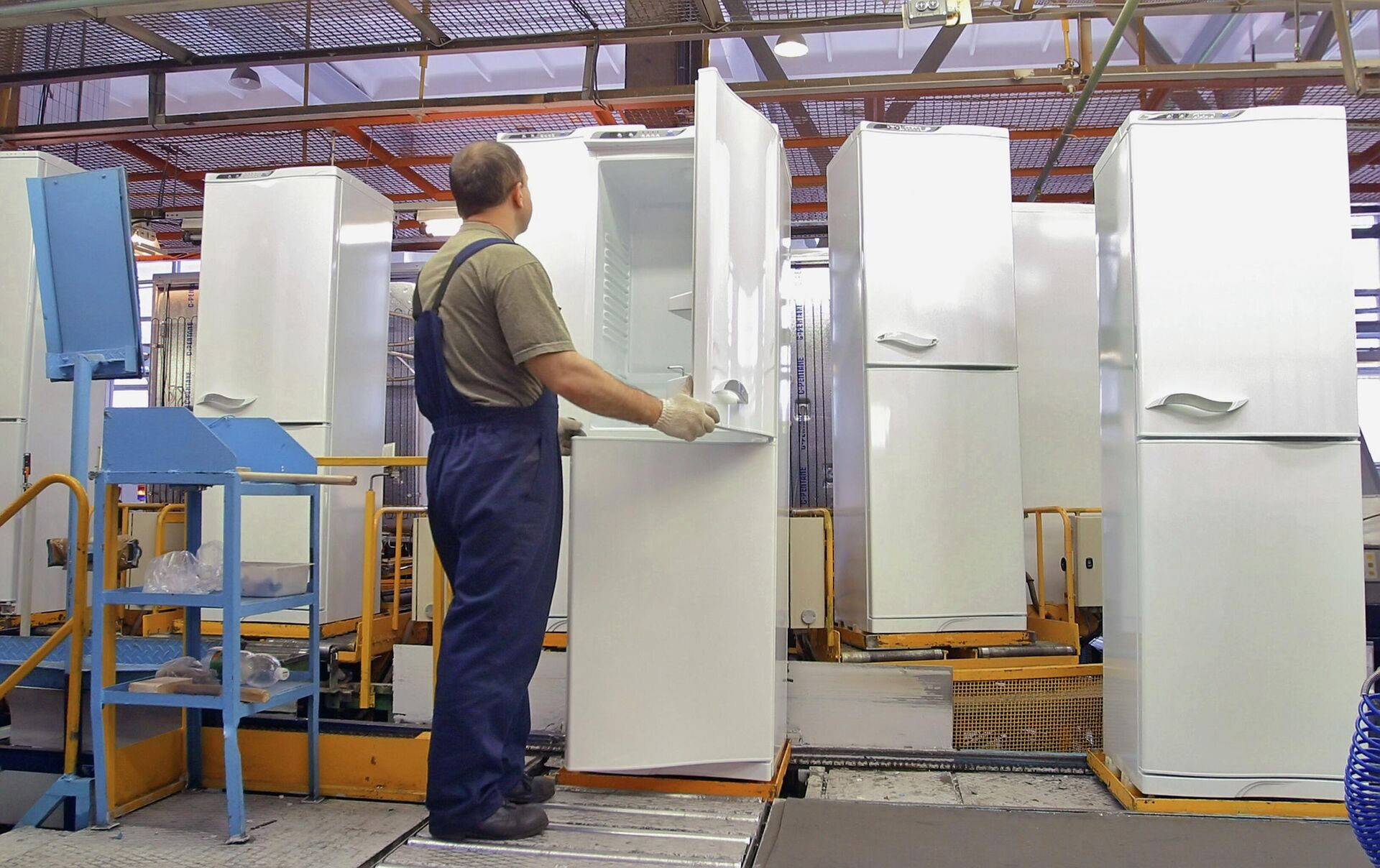 Production of refrigerators at the "Atlant" factory, Minsk
According to Dzermant, the republic has a very good school for seed production, which is also beneficial for Russia: "I will not say that all crops are seed funds, but to a large extent they are."
Experts agreed that the import substitution process could take years. However, when compared to the same China, Belarus is more advantageous for the Russian market.
At least in terms of cost, cooperation will be cheaper. There are many worthless businesses in Minsk that were previously ignored and now they have a good chance to stand out.
Source: Ria
With a passion for storytelling and reporting, I am an experienced writer and Editor with a focus on sports. As an Author at News Unrolled, I write engaging stories on the latest developments in the world of sports. My articles have been featured on numerous global media outlets and my work has been highly praised by renowned editors.