MOSCOW, March 25 – RIA Novosti, Tatyana Ryzhkova. Buryats made a great contribution to the culture of the Russian Federation. A special love for Baikal, a delicious and hearty cuisine, impressive music on a national instrument in the form of a horse head – of course, that's not all. About the Mongolian-speaking people living in the Far Eastern Federal District and their customs – in the material of RIA Novosti.
Yurts: where Buryats live
Buryat dormitories are round, with a window at the top and a hearth in the middle. It is made of natural materials, felt and wood.
"The left side of the Yurt — women have plates and utensils. on the male side — chests decorated with carvings, horse harnesses, shoes, — Explains Elena Strekalina, deputy director of the Taltsy museum of architecture and ethnography.
In the shaman's tent there are wooden and iron canes, swords and a sorcerer's outfit. As well as ongon symbols – ancestral spirits of the family or clan, guardians of the house.
Music and dance: morin khuur and ehor
The most famous Buryat musical instrument is the morin khuur, which means "horse head". Two-strand neck with a horse's head. They play with the bow.
Legend has it that the evil Khan killed a boy named Suhe's beloved white horse, but the spirit of the horse appeared to him in a dream and ordered him to make a musical instrument from horse bones and a head. Suhe made the world's first morin khuur, traveled the world with it and glorified her favorite.
"No matter how cheerfully Buryats play in morin khuur, there is always a note of sadness in it," say the guides of the Golden Horde ethnopark.
In 2008, morin khuur was included in the UNESCO List of Intangible Cultural Heritage of Humanity. Morin khuur play schools are open not only in Buryatia but also in different cities in Mongolia.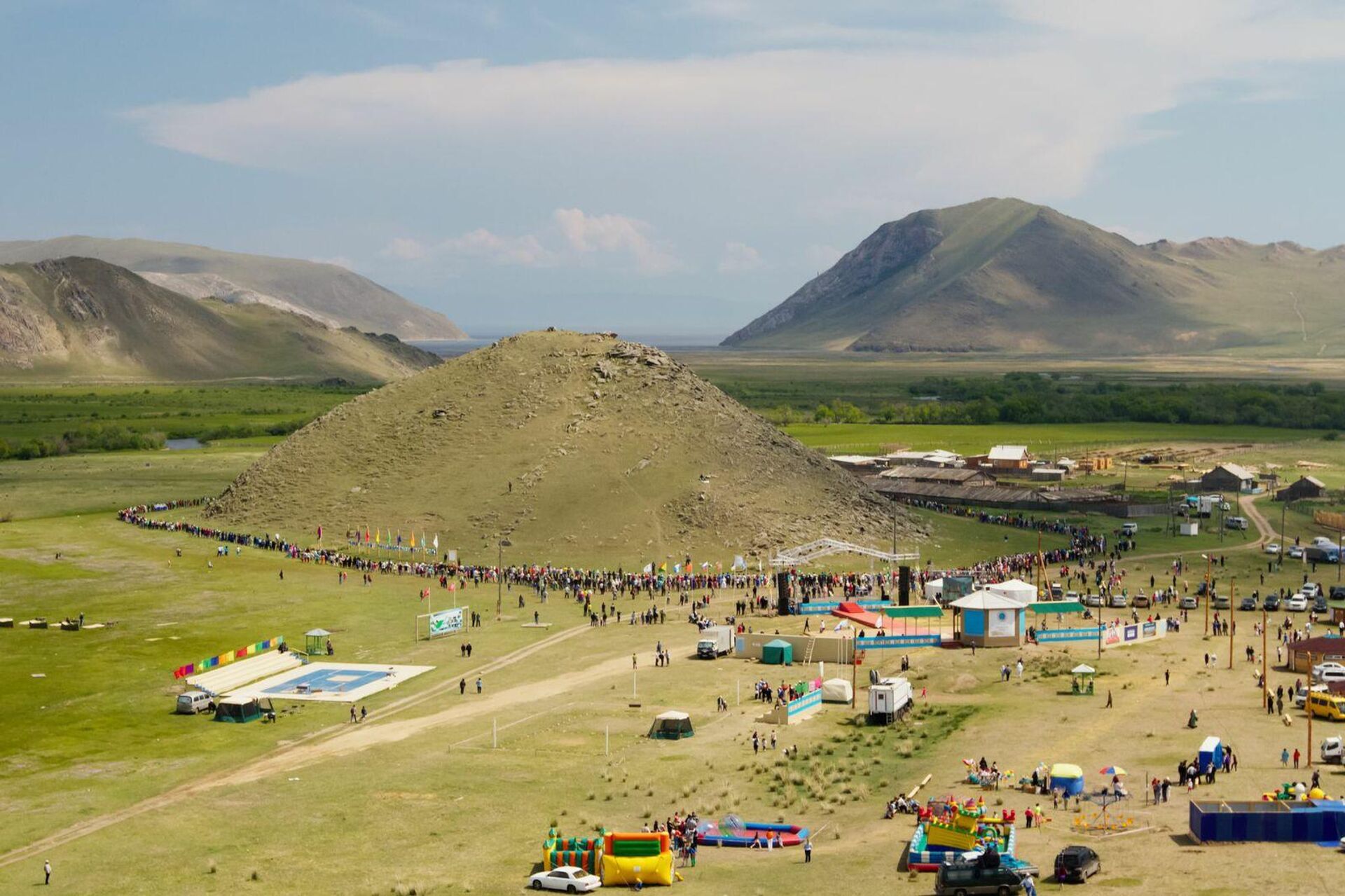 Sopka Yekhe Erd, around which festival participants dance the Yehor ritual
The favorite dance of Buryats is ekhor, or round dance. Since 2007, Ulan-Ude hosts an annual "Echora Night" where thousands of citizens and guests come together.
Religion: Shamans and Buddhists
Since ancient times, the Buryats deified the nature surrounding them: the sun, wind, horses, steppe, mountains and forests. Baikal and its surroundings, especially Olkhon Island near Irkutsk, are extremely important to them.
Near the sacred Burkhan Cape, there are still 13 sergeant pillars believed to bind the horses of the ancestral spirits. There was once such a thing in every country. These pillars symbolize the tree of life that unites the three worlds: heavenly (upper), earthly (middle) and underground (lower).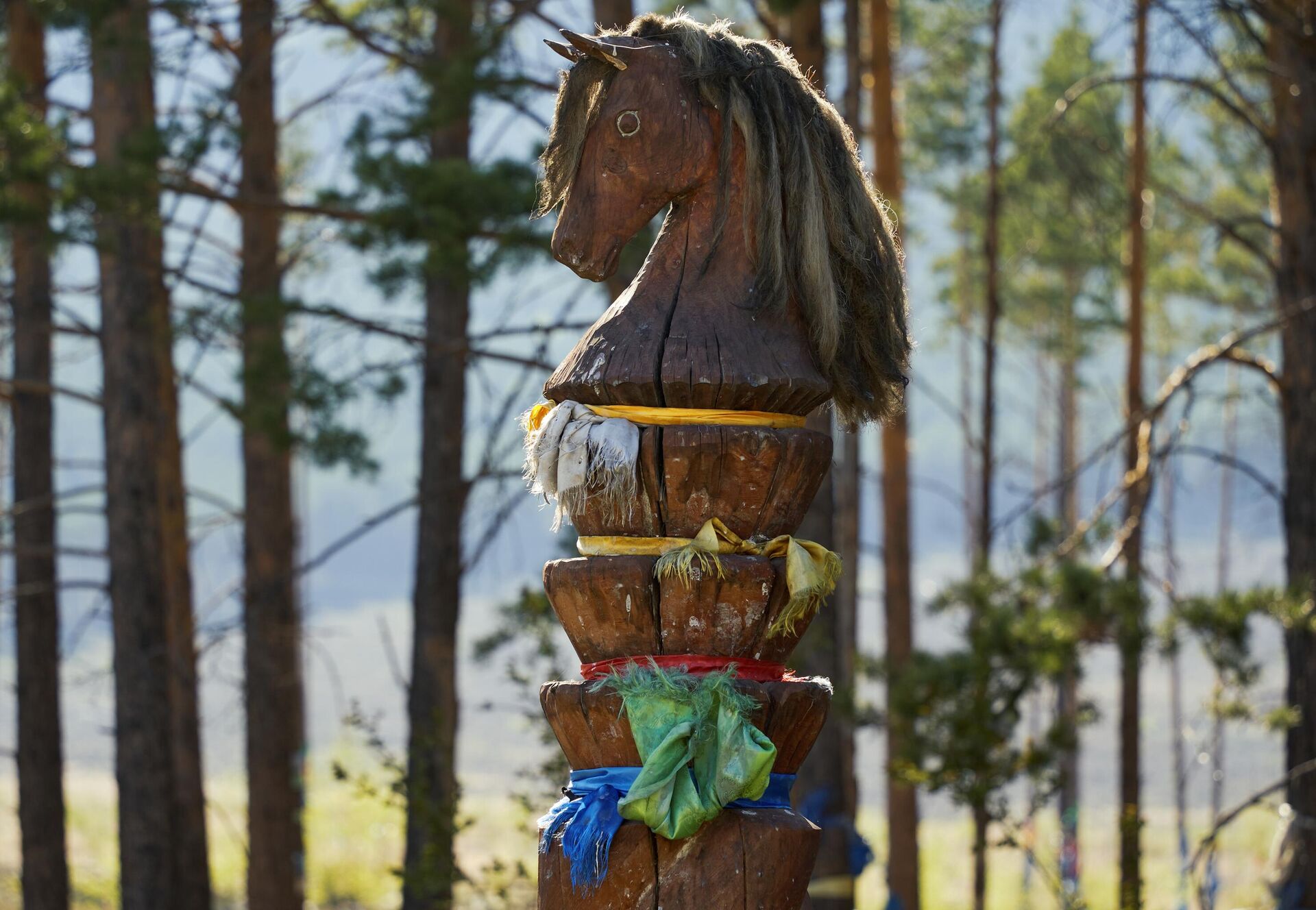 Hitchhiking pole with hadaks at the entrance of Kurumkansky district of the Republic of Buryatia
At the end of the 17th century, Tibetan Buddhism came to the Baikal region. His followers also adored Cape Burkhan (what the Russians called Shamanka).
Climbing the nose is not accepted today, it is not in local customs. Photographed against the background of tourists.
Serge is decorated with multi-colored ribbons – these are an appeal to ancient gods and spirits. In August, shamans come here – not only from Buryatia, but from all over the world.
Food: meat, fish, refreshing tea
It is very difficult to be vegan among Buryats – here they love hearty food, meat and fish. Local specialty poses in buuzy or Russian style. Cafes with them can be found in Moscow, and in Irkutsk and other Baikal cities they are found at every opportunity. Buuzes are practically khinkali or manti, but smaller and have a different shape.
They are traditionally molded into a yurt and 20-30 loops are made on top. The filling is pork and beef, but they also come with horse meat. In central Russia the poses are eaten with a knife and fork and they make a big mistake. They must be taken by hand, drinking broth.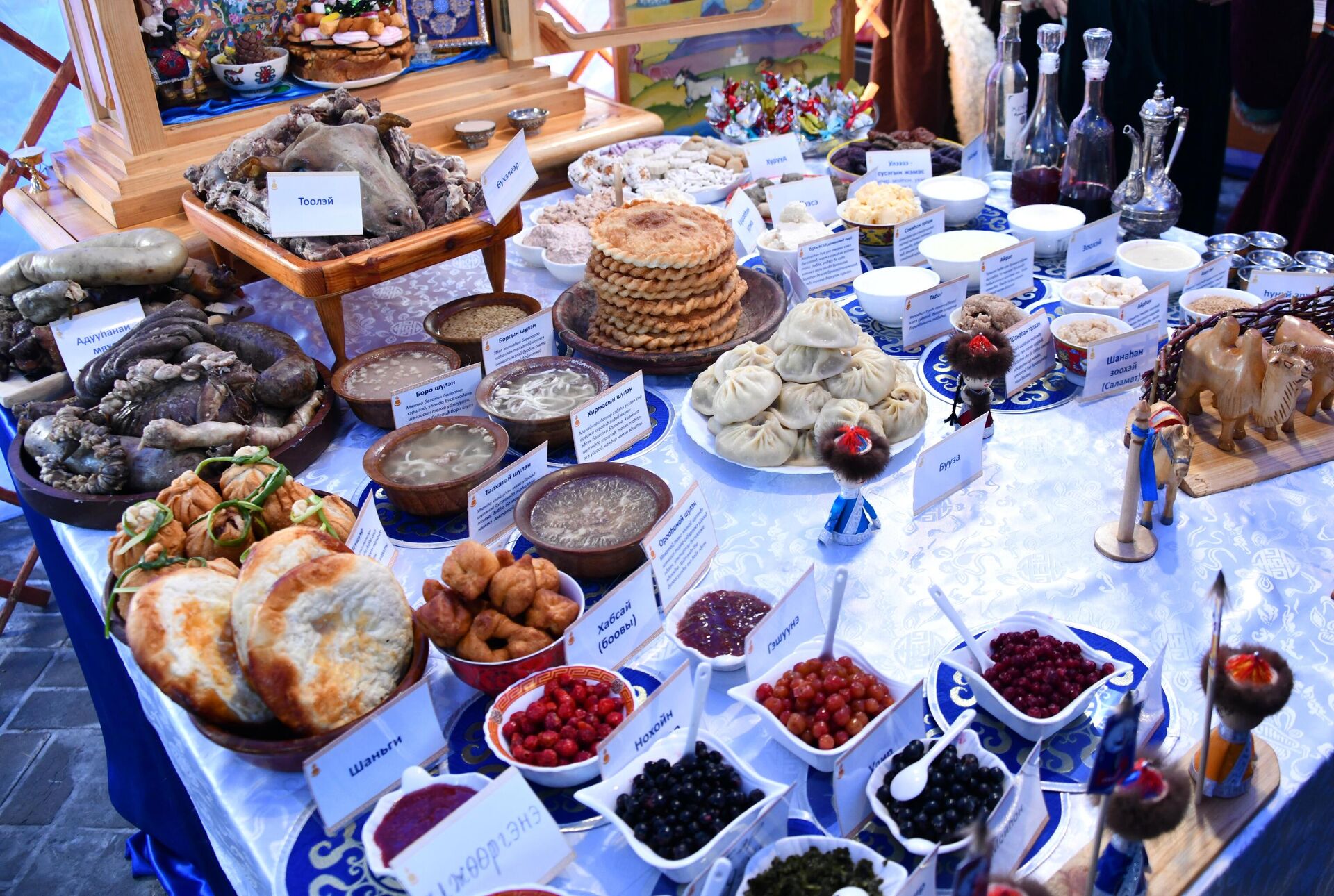 National dish at Buddhist New Year celebrations in the village of Mogoytuy, Trans-Baikal Territory
Sugudai is very popular – lightly salted fish with black pepper, plenty of onions and cranberries. Usually it is Baikal omul.
In general, Buryats love stroganina of all kinds and know how to cook it. As a snack – wild garlic with milk flavored with pine nuts. For dessert – bows, soft bushes.
"In Buryat cuisine, a lot of attention is paid to dairy products – they prepare bread, main and first dishes, drinks. They drink tea with milk," says Amalia Akopova, author and head of the Media Stars project of the Intourist tour operator.
They also drink tea with sagan-dali. This herb is a powerful energy drink, and if brewed incorrectly it will cause a strong heartbeat and other not-so-pleasant and unhealthy conditions. Buryats add sagandali to black or fruit tea.
Fashion: only natural
Buryats dressed in fur – fox, fox, sable fur, as well as natural leather and wool. With the development of trade relations with China, silk, velvet, cotton, jewelry made of stones, silver and gold were added to the costume.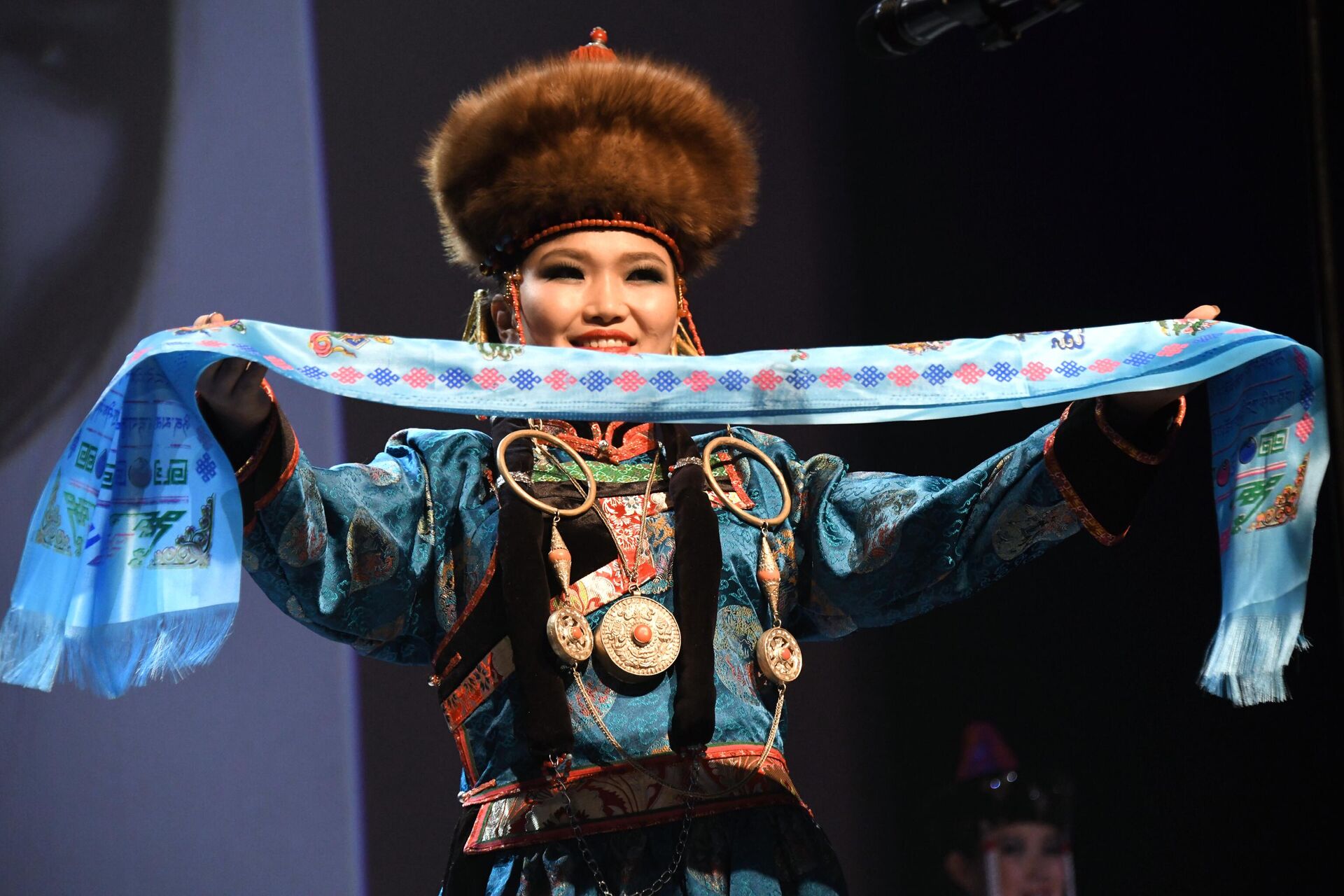 Participant of the annual regional beauty pageant among Buryat beauties in Chita
Each color has its own meaning: black – earth, blue – sky, green – earth, red – fire, white – goodwill and a pure heart.
The hood is a conical hat made of malgay, velvet or fur.
Where to plunge into the culture of the Buryats
In Transbaikalia and the Republic of Buryatia, you can get acquainted with Buryat culture, shamanic traditions in Eastern Siberia and Buryat Buddhism. Ethnopark "Golden Horde" – in the village of Ust-Ordynsky near Irkutsk. In the Taltsy museum you will learn not only about the Buryat way of life, but also about relations with the first Russian settlers.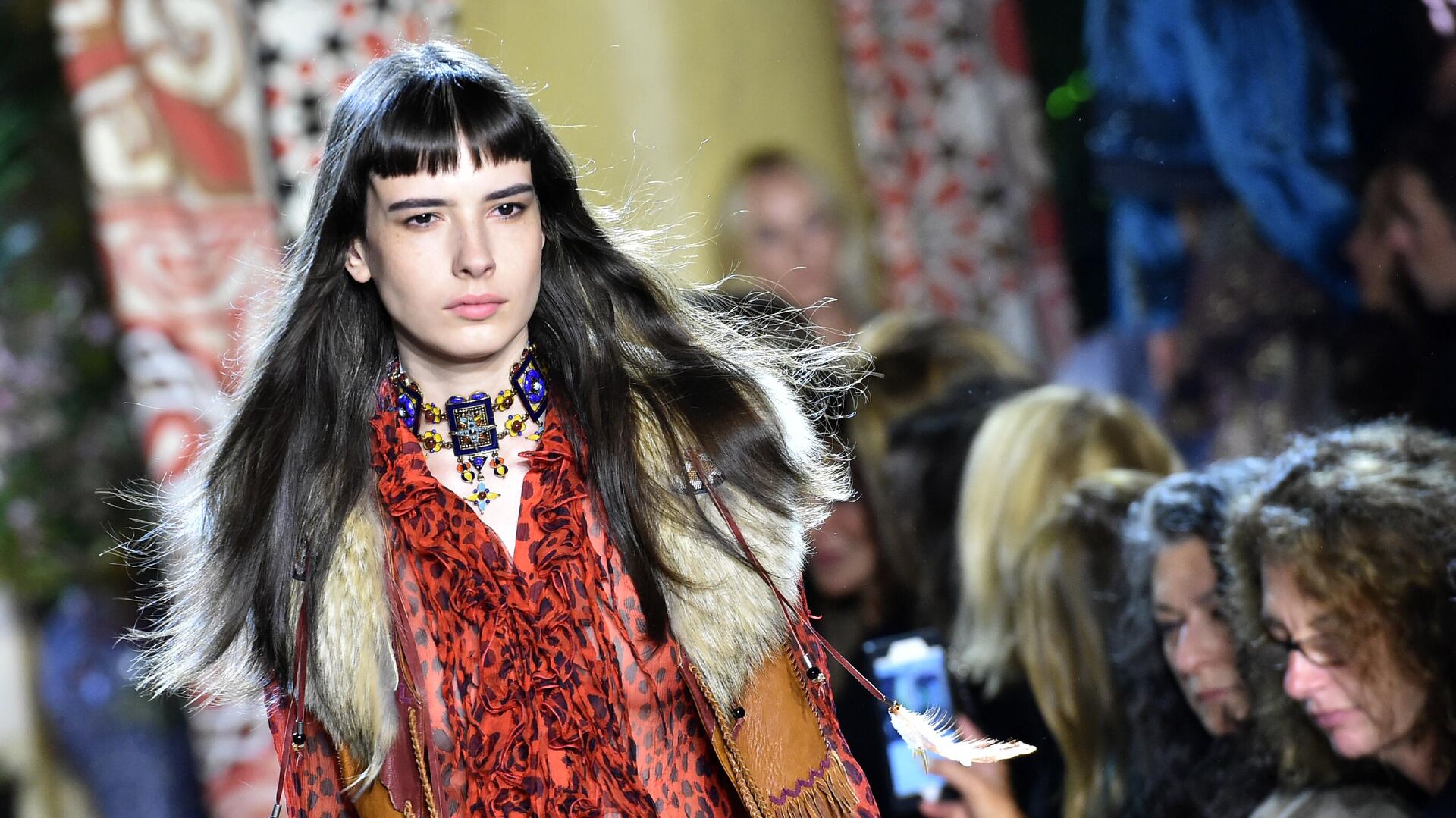 Not just dances and songs: what Gypsies do for Russia and world culture
Source: Ria
I am David Jack, an experienced writer with a passion for news and entertainment. I specialize in writing articles about the latest trends in the entertainment industry for News Unrolled, a leading online news website. My writing is often praised for its insight and clarity of language.