The main sporting attraction in Donetsk is, of course, the Shakhtar football team. Four-time winner of the USSR Cup, and in the post-Soviet period – 13-time champion of Ukraine and winner of the UEFA Cup. Few people remember that during the Soviet Union, Donetsk was a tennis city. Photos of the stadium with a unique lighting pole are in tennis encyclopedias that talk about that time. The history of tennis in this city was told by the person who created it – the honored coach of Russia and Ukraine Vladimir Kamelzon.
"This pole is called Kamelzon's gander," says Vladimir Naumovich. "The only sports facility in the world does not have such a pole. 28 tons of stainless steel standing at an angle of 45 degrees. All the courts are illuminated. It comes down 15 minutes from this pole and the lighting fixtures are already installed downstairs."
– Unique. For him, the guys working on the Donetsk railway were awarded the title of Honored Power Engineers of Ukraine. They built everything themselves.
– How did you come up with the idea for such a pole?
– The head of the Donetsk railway, Viktor Vasilyevich Priklonsky, who took me from Tashkent to Donetsk, was a unique person, he did everything on his own. The scoreboard created by us still stands. And somehow it comes from a large industrial exhibition in Canada, calling me, he says – come to the office. I come up to him and he is sitting and playing with a model that looks like some kind of bird. He presses his tail – and the beak rises. Back and forth. "What do you think this is?" – He speaks. And before that, I hummed to his whole brain that lighting is necessary on the courts. "This will be our lighting tower!" – informs.
– I tell him: if you understand how it will be, then fine, because I did not understand anything. And he made this pillar. It's still there.
– Donetsk as a tennis city started with the British? Industrialist John Hughes founded it in the 19th century and was originally called Yuzovka.
– Maybe then the British played there, but I never heard of it. If there was anything left, I would find it climbing all the holes. There was some kind of tennis, of course, when I came to Donetsk, but Priklonsky and I took it to a real level. He was a tennis fan. I taught him to play in Tashkent.
– And how did you come to Tashkent?
– So I'm from Tashkent, I was born there. He graduated from the Institute of Physical Education. Break Soviet records! He is the youngest state coach in Uzbekistan, at the age of 23. There it was possible to build the Pakhtakor stadium for 36 tennis courts, eight of which are still in operation. The USSR Championship was held there. At the age of 25, he received the title of judge of the all-Union category. It was not given to anyone before me, before the age of 40.
– And I think they played well.
– I went to Dynamo as a kid, I became addicted to tennis there. There was such a coach as Kaplan Anatoly Valeryanovich, he has a son Volodya, we achieved excellent results with him. He was great at hitting a ball rebounding from the right and I was running great. And Leningrad balls are not today's balls, and wooden rackets are not like today's balls. And there was no ball that I couldn't get. I got the nickname "despicable partner-switch" from them there. It was physically impossible to beat me on clay court.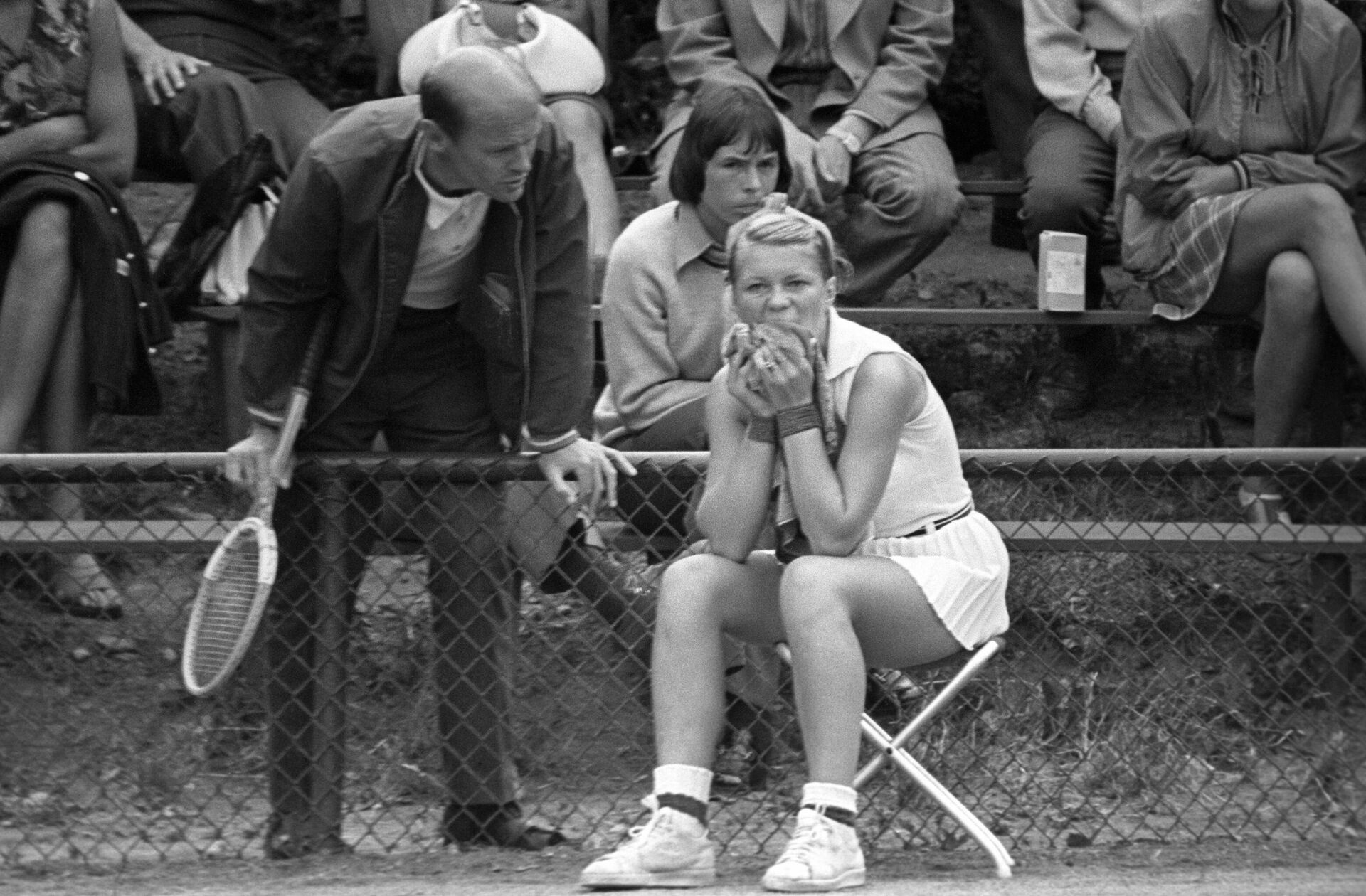 – How did the Donetsk period of your career begin?
– Working in Tashkent, Priklonsky was sent to Donetsk after the 1966 earthquake. And he took me with him. More precisely, he managed to free me along with him through the Central Committee of the CPSU. True, the head of the Uzbekistan Tennis Federation was angry about this. Also a tennis fan, he presided over the Republican Academy of Sciences, had a court in his garden. At that moment I had to build a new stadium. Then I leave – and I take another very talented student, Sasha Kolyaskin, with me. uncomfortable here.
– I read that even Kolyaskin's memorial service was held in Donetsk.
– Kolyaskin later became a big star in Donetsk. He won the youth championship of the USSR, became the champion of the Union in a pair, won something abroad. He was then taken back to Tashkent by the Minister of Commerce of Uzbekistan, another head of the tennis federation. Salary, flat, promised job. And he joked: "Where is it stolen, what is the difference – in Donetsk or in Tashkent?"
– So, when you come to Donetsk, it turns out that there is no tennis there.
– He doesn't have it. And at first I lived at the station, in the wagon, Priklonsky tied me there. Meanwhile, the deputy railroad chief had a heart attack and was taken to the hospital and the place was evacuated. And Priklonsky brought me there. I have a huge office, I had 80 people at my disposal, and while this person was being treated, I got to know all the leaders in this field. We dined in the same room, so I got to know everyone – and came to court with my sharp tongue and humor. Two days later I came to the planning meeting with all the tables and data as I was settling in, what and how can be improved. The authorities almost fainted from me. Come on, they say you better go to the stadium and play there.
– Yes. The assistant who had suffered a heart attack soon recovered, but by then I had been friends with someone. In Donetsk there was a sports palace where pentathletes, swimmers, wrestlers who were not there trained. I have been appointed as the director of this sports palace. There was a swimming pool, I also managed to organize a tournament for the prizes of Komsomolskaya Pravda. Well, equipped a room for tennis. He transferred the wrestlers from there to another place. Next to the sports palace was a Shakhtar hotel. And then a tennis stadium was built next door. In this hotel, our stars – Alexander Metreveli, Teimuraz Kakulia – had their own rooms. From there, it was convenient to look directly at the courts, they knew when they were going to the game.
– World-class tournaments have been held in this stadium. Courts are real, clay. Where did you get this land?
– Very simple. My agility helped. I told the road manager which courts should be held there. There was already a fence, only the platforms remained that needed to be arranged. Tennisit was required (brick crumb – author's note). And good tennis was held at Lode station near Riga. Broken bricks and tiles were ground there. Roofs in Latvia are red everywhere. So, the head of the road sent a coal train there. For him it was like a tennis ball to me. I came by this train, in one day they unloaded this coal and loaded tennisite. And this train returned with me to Donetsk. They built the courts that have survived to this day from this tennis player. It does not rot, does not spoil from the rain, does not go anywhere. These were the first red courts in the entire Soviet Union. And in general, I think there are no such courts anywhere.
– School opened, probably right away.
– Of course. The children came to play. I brought coach Olga Babiy from Alma-Ata from there, we were two coaches there. Sasha Kolyaskin grew up, Union champion Yura Filev, sports masters Sasha Kostenko, Vova Bogdanov … Marina Kroshina, seven-time champion of the USSR, youth Wimbledon champion.
– And you played Davis Cup matches in Donetsk.
– Eight matches. Not a single one was lost. And Shamil Tarpishchev honed his skills in the leadership of the national team. We had to play the last game of these eight matches against Israel and he wanted to play in Moscow. I tell him: if you lose to the Jews in Moscow, you will be fired from your job. We decided to stay in Donetsk and we won.
– Why did they start playing for the Davis Cup in Donetsk, was it then the best stadium?
– Still the best stadium today. It has no analogues in Russia, I can say with confidence. And at that time, there was a modern six-meter scoreboard in two languages, a stylish center court with comfortable stands. Where else is it played? Well, other tournaments began to be held, both international and USSR championships. Nikolay Ozerov, God bless him, came, he admired the stadium. He became friends with Priklonsky, the secretary of the local district committee, always met him personally.
– Yes, Ponomarev Petr Alekseevich. When I met him, he said to me – this is your tennis, the bourgeoisie is playing. And here there is basketball, boxing, football – the Shakhtar team. I answer him: Peter Alekseevich, I give you ten lessons, after which you will chase after me all your life. And he started playing tennis! I had to go to Sochi with the team for the competition, I told him – there will be no class tomorrow, I'm leaving. He says: no, you said ten lessons but gave nine. Here give the tenth – then you will have the will. And he didn't let me in!
– I was offended by him. He understood this, but still continued to play. Yes, and other great people started playing tennis there. The company was good. And this secretary helped me on my first overseas trip through the twin cities. He sent me to competitions in Norway. I took a team of three lefties with me and won them. Then he gave me trips to Poland, England, the GDR … In Poland they received the main prize, the plate still hangs. The sports committee was so jealous that I didn't go to these tournaments through their channel, I did it on my own.
– You are an honored coach of Ukraine…
– Yes, I got this title in Donetsk. He is the only honored coach of both Russia and Ukraine.
– They said that there is not much advertising about the Davis Cup match with Israel.
– And there it is. The press was not like it is today. Little has been written about what we did there. Well, Donetsk is not Moscow, a little aside. The match was stubborn, thank God we barely won.
– What other memorable matches were there?
– We played in bad weather with India. And the Indians began to ask for blankets in order not to freeze. I still thought – to give or not to give? But he gave it so that there would be no scandal. I brought a blanket from the hotel. But they still froze and we beat them.
– Are the courts specially prepared for certain players? After all, there are special tricks for watering the site on time.
This is what I was most accused of. They said: the cunning Kamelzon floods the courts. But the issue is the same, not who irrigated, but how he irrigated.
– What other memorable events were there?
– The Soviet team was supposed to go to Wimbledon, but due to the appearance of a girl from South Africa, where apartheid was, the team was excluded from participation. They abolished themselves, Moscow. But we had 11 seats for the trip and all these places were given to the coaches. The best coaches under my leadership have been sent to Wimbledon. So I went there, looked at what it was and what it was eaten with. There was also a reception by the famous Fred Perry and we were given a uniform. And I, as always, was impudent – at dinner they give us a bag and I say: Fred, take my bag, I have a little girl and the guys are at the railroad, we need a children's uniform. He answers – ok. They took nothing from me, 20 minutes later they brought another bag with a kid's jersey.
And then it happened. The nanny worked for the head of the road. So he saw the inscription "Fred Perry" in this form, took it and cut it out! The boss almost had a heart attack.
– How did your Donetsk saga end?
– I worked in Donetsk for 17 years. But at some point, a dissatisfaction came. And I went to Kiev. However, he maintained his connections with Donetsk. My students stayed there, my wife Rozhkova Natalya Alexandrovna was the head coach for a long time. Work at the stadium did not stop, the guys trained. And I spent four years in Kiev. At that time, he won the USSR Cup in Alma-Ata with the Ukrainian team. We've never won against Moscow before. And after that I came with this Cup and they said, what did you bring me, take it to the warehouse. Even then it was not easy there.
– I don't know what happened to tennis now. Donetsk was bombed. And where I live was bombed, and I lived in the Kyiv district, opposite the stadium. As I was told, they shot and shot in the stadium, they wanted to shoot – but they never did. Bullets flew further into the park and completely destroyed the Donbass Arena, which was built for the European Football Championship. It was a great stadium! They bombed, but the tennis center was never hit. And I know for sure – the mast stands.
Source: Ria
With a passion for storytelling and reporting, I am an experienced writer and Editor with a focus on sports. As an Author at News Unrolled, I write engaging stories on the latest developments in the world of sports. My articles have been featured on numerous global media outlets and my work has been highly praised by renowned editors.