Honored coach of Russia Alexei Mishin and student of Tatyana Mishina took the lead in the final stage of the Grand Prix. RIA Novosti Sport explains the Evgeny Semenenko phenomenon.
To interview Evgeny Semenenko in December last year, he went to St. I went to Petersburg. It happened with the consent of Zhenya and the approval of the coach Alexei Mishin, so we immediately agreed to meet at the track. If Mishin already allows you to enter the circle of trust, he opens everything – and takes you to the warm-up hall, looks at the ice and gives you tea in the coaching room. He will also advise his students: here they say, Aunt Nastya, she is fine, you can talk to her.
After this training, Zhenya changed her clothes and came to me. We walked the winding corridors of Yubileiny and sat at the buffet. It's a familiar place for anyone who trains here – very plain. All these details are needed to show during our dialogue with Zhenya that I am not a complete stranger to her. Sometimes I visited Yubileiny, we also met at competitions. And outwardly it did not look like a boa constrictor – why should I be afraid? Especially since I'm afraid of myself.
However, Zhenya was afraid. More precisely, I wasn't even scared, I was just very worried. He had a closed stance, replied in one syllable, and was constantly worried that he was going to say the wrong thing.
It's a mystery how superhumans who spin at the speed of a jet plane and aren't afraid to go to the ice after leaving half their spines there can get excited while chatting with a do-it-yourself journalist. And after all, Zhenya is not the only one who is so shy – for athletes in general, shyness is more the rule than the exception. There is one thing – often shyness in life manifests itself on the ice.
That's how you get guys and girls who will probably never change their habit of keeping their eyes on the ice. They cannot play "Pirates of the Caribbean", "Sleeping Cowboy" and other game shows that require acting. They can even achieve quite high results, but they are not recognized as artists by the public. And for the shows, if the organizers have a choice, they will invite someone more provocative.
As we know, this does not apply to Semenenko. He's an outstanding figure skater who went from a man who did all the jumps in two seasons as an adult to a K-pop idol and national team star. In a single skater with the most fascinating non-classical flexibility of hands in the national team. From the first second to the last second on the ice, an athlete who keeps the audience's attention on himself with all his temptations to distract him with something. And more importantly, the jumps did not stop dragging.
How is this magic of the actor formed, whose art Semenenko suddenly mastered for many? It cannot come from anywhere but from within. And I saw her in Zhenya, to tell the truth, even when she blushed, turned pale and carefully chose her words in an interview on Yubileiny.
As soon as we changed the subject from exercise routine to medication, the sun seemed to be rising above the buffet counter. Zhenya shone, started and almost sang, enthusiastically talking about the subjects, tests, skulls, traumatology and other objects of passion of an average student of a medical institute. Much of this story wasn't even included in the final transcript of the interview, but it stuck in my head. "Wow, how charismatic it turns out to be!" – I thought while riding the subway in "Sportivnaya".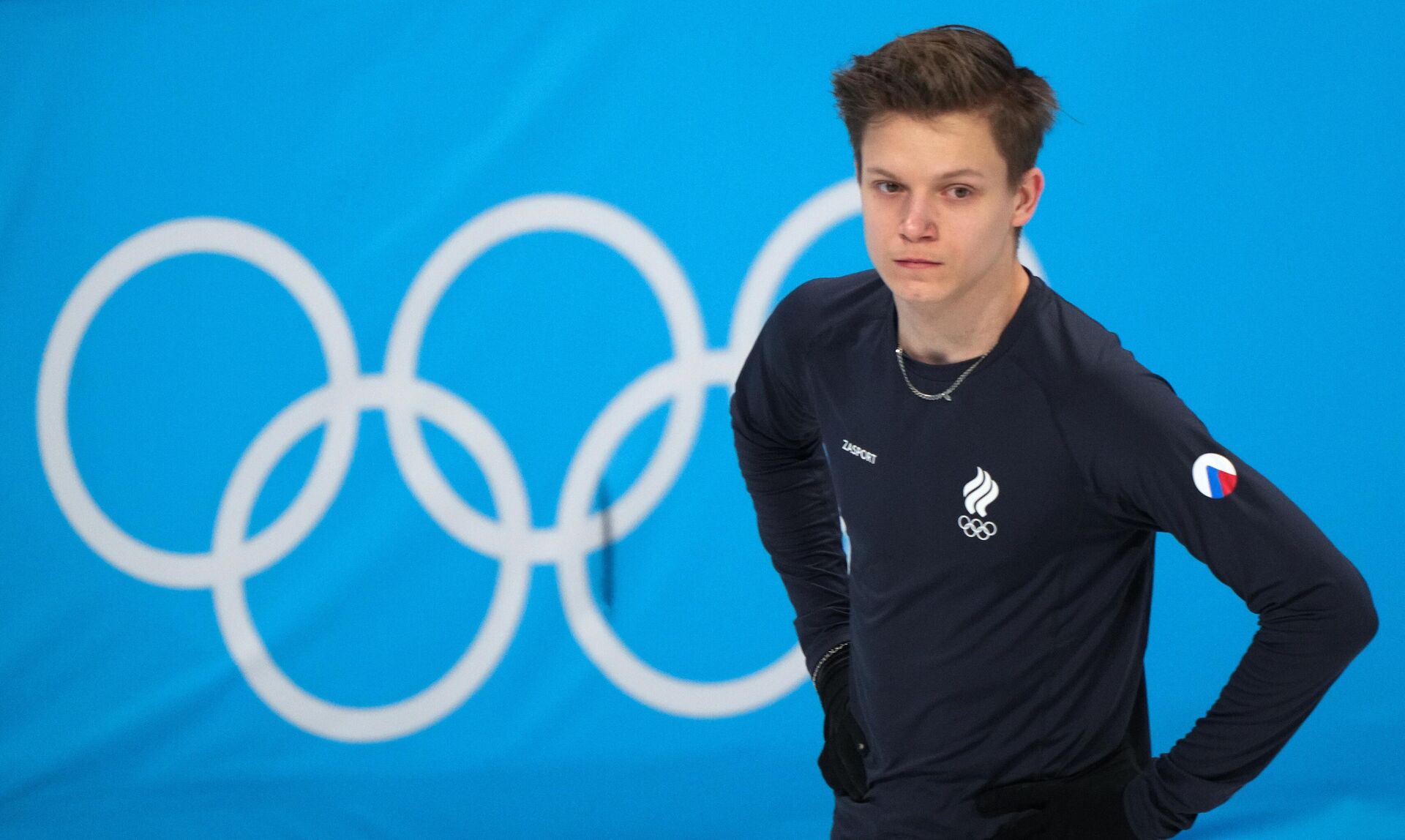 Russian figure skater Evgeny Semenenko
What happened next, you remember. Semenenko finished only fourth at the Russian Championships due to uneven preparation after an injury, but got a chance to go to the European Championships, and then to the Olympics. There he was again a man who dragged the jumps, taking the title of the most predictable and therefore reliable single skater of the national team. In mixed doubles, he continued his shyness even when there was no one but me and the operator.
Well, international competitions were off-season with preparations for the new season without Russia. Maybe that's why Mishin allowed Semenenko to experiment with K-pop and get a free program, and not a proven "Tango Roxanne".
The most experienced coach is not the same as the most conservative and boring. Alexei Nikolaevich believed Zhenya, who must have brought this music to the ice rink with burning eyes, where he told me about medicine. And the puzzle took shape – it's so inspiring when you're allowed to influence your own career and life. Especially when you can put together a few things you love so much.
Zhenya found a super image, choreographer Tatyana Prokofieva staged a super piece with the participation of a figure skater, and Alexei Mishin treated everything with childlike interest, like a hooligan lighting fireworks. Rip or not Rip?
And it exploded. From the premiere of the program, which will begin next spring, everyone has spoken and written about the program. And Semenenko more and more unleashed her inner star, rolling every day in training. The growing power of the player's magic extended to the short program, although what could seem more mundane than Albinoni's Adagio in 2022. Semenenko managed to add unprecedented courage to this. Well, let's not even mention Frost to the soundtrack of the group TXT – our single skaters have never shown anything like this before.
It's great that little Zhenya was not once taken to athletics, because they were considered not promising enough for this sport. Otherwise we wouldn't have this young hybrid, hoping to get silver hair dye in frozen Perm morning and night. All to give us a first class show. Because it's pure excitement for him.
Source: Ria
With a passion for storytelling and reporting, I am an experienced writer and Editor with a focus on sports. As an Author at News Unrolled, I write engaging stories on the latest developments in the world of sports. My articles have been featured on numerous global media outlets and my work has been highly praised by renowned editors.