In an interview with RIA Novosti Sport, Olympic champion Russian skier Sergei Ustyugov talked about his new attitude after the Beijing Games, the jokes of young athletes, his plans for the season, family life and how he will act now in case of a conflict with Norwegian Johannes. klebo.
– After being admitted to the Olympic Games Pyeongchang You were in a very stressful situation, you wanted to end your career.
– Probably, the fact that I can not do anything (laughs). I actually love cross-country skiing and it's not time to finish yet. At that moment, I realized that I could still compete and that I had to move forward. There is still a chance to go to the next Olympic Games. Here we remember how I came with Vladimir Danilovich Timofeev as a teenager in 2009, this is how many years I have been in the team! I came to training camp this year and looked at everything with completely different eyes, completely different.
– Through the eyes of an Olympic champion?
– No, that's not the point. I achieved in principle what I wanted to achieve in my career. He completed the tasks set for himself. My goals for this season are a little different. We discussed everything with Markus (Kramer), he is fixing plans. I know what I am preparing for, how to stay fit and how to get in shape. And I work more calmly. Not so, to start farming from the first collection. This experience comes more consciously every year. If you started farming in May, you can finish it in June, it will be difficult. I understand that now it is necessary to go through the full preparation season and reach the top of the form for the planned starts.
– After Pyeongchang, you were surrounded by an atmosphere like in the movie "Between an Angel and a Demon". And your first coach, Ivan Bragin, was good and wanted you not to end your career.
– Many men said it's time for me to start thinking about what to do next. Someone continued to believe and said: "Grey, it's too early to retire, you need to train, move." Ivan Gennadievich, of course, even now always says: "Well, you have to work!" So I said to him: "Ivan Gennadievich, I'm not a toddler. I'm not even like three or four years ago, I have two children." After all, I am a father and I have to think about how to live old age without scars and injuries. So that when the child runs somewhere, I do not go after him and do not "jam". He left the house, his heart bled. I was home for a very long time after last season, but still spending time with my family is the most valuable thing.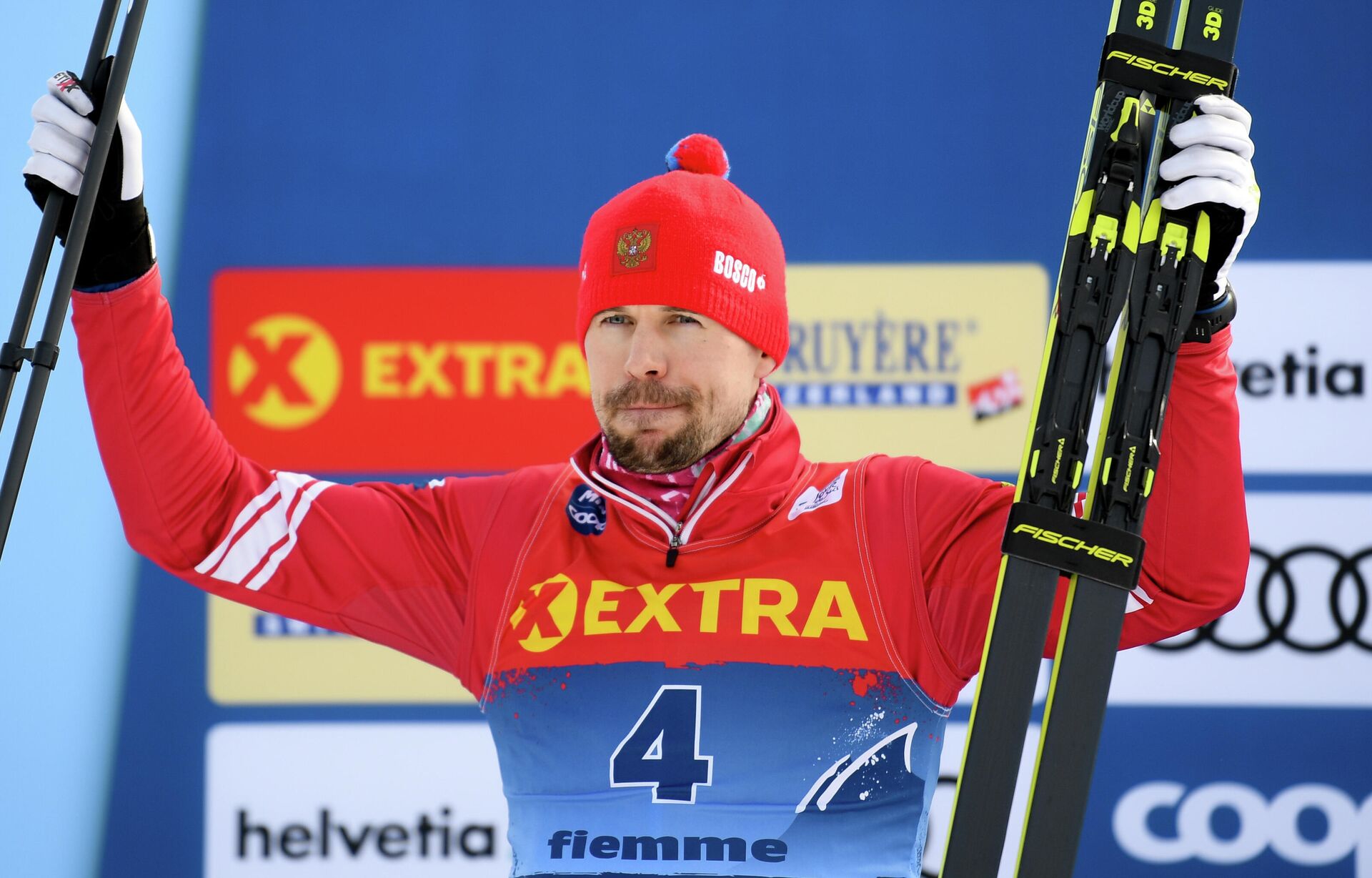 Sergey Ustyugov
– Is that why you looked so upset the first morning after you arrived at the training camp in Malinovka?
– Yes, it was the second day. I woke up and thought that the main thing is not to freak out and go home so that it doesn't end here and now. It is necessary to survive until winter and go through the whole program.
The guys are kidding – they covered the track with sand!
– Enough time has passed since Beijing and the gold medal. The thought came – everything for rest?
– After the sprint, I exhaled, the weight fell from my shoulders, I was released. I realized that I was doing everything that depended on me. Yes, I lost tactically, I had to squeeze it somewhere. I came to Sprint for a medal, I was ready, but it happened. They say to me: "Here in Sochi I would have received a medal, maybe everything would go according to the caterpillar." And maybe I would get a medal, but with those brains I would have finished a long time ago and there would be no World Cup medals, no Beijing gold. You have to lose somewhere to continue. Moreover, it is motivation. Who did not fall, did not rise, as they say.
Now a completely different look. I train with the guys from the Yegor Sorin group, I see an athlete coming – well-balanced, built. I ask: "You walk, technical, why not run in winter?" Then I got on it again, looked and I see that I didn't finish here, I didn't finish there. I say: "Guys, can I tell you?" I asked Yegor if this is possible, because when they achieve this on their own, he will be 30 years old, and you are already old. Now Yakimushkin, Maltsev, Chervotkin joke (laughs) that I covered the track with sand. "Guys, well, e-me, four years difference!" In general it was fun, I remember myself, I also joked with the old men. It so happened that with Gleb (Fierce) we are now the oldest, he is 91 and I am 92 years old. So I will advise friends. Then maybe they will remember it with a nice word. And then I realize that in the winter I have to fight them, and if I give them too much information? (Laughs).
– Apparently there is a craving for coaching?
– Not! I cannot force a person to do something against their will. Work it hard. I went through all this myself, and even if you beat me with sticks, but until you come to this with your head, nothing will work. So, to suggest some little things: the setting of the hands, the setting of the legs – that's nice. I remember how I came Max Vylegzhan, I say: "Come on, teach, tell, I will suck like a sponge!" He looked at me like that, they say little, what are you doing? But the next year he began to explain some points to me. And other older men too. Stas Volzhentsev taught me to walk classically, I deliberately followed him in training.
I might give it three or four races just to look a little
– How is it now, after a long vacation?
– Now, I'm in the role of being left behind for a long time, entering the season. It's hard to train at home, but by September I plan to be on the same level or even higher than them. Do you think I didn't run? I can't say that. I no longer have the same ambitions as before, but I understand that I can run three or four races in a season, not enough for everyone.
– Considering your sprint qualifications and the fact that the FIS has reduced the distances to 10 and 20 km for men.
– Everyone is preparing for this, they did not cut it just before winter. Everyone's preparation is going to be a little different. In general, the first year after the Olympic cycle is the most difficult, then the load gradually decreases. I am now in my fourth cycle. My dream has not come true yet, I wanted to build a house, but it is very expensive to build it using the technologies I want in the village. Not very cost effective.
In addition, material prices have increased.
– Yes. As Lena told me – get high for a year, no one pressures you, no one demands anything, enjoy what you love to do. And that's all, it left me calmly, I was leaving and my heart bleed. And her daughter has already grown up, she understands everything, misses it. Hard.
I did not miss sports on vacation
– Why did the choice fall on the name of Michael at the birth of a son?
– In honor of your brother. When Lena and I had just met, married, and had children, we agreed that we would call our son Mikhail. She didn't have any questions, but then she said: "But when it's a girl, I'll pick her name!" (Smiling). I have two older brothers, Mikhail and Vladimir, that is, if there is another son, then everything has already been discussed.
– Has Elena finally completed her career as a skier?
– Exercise, ski – it is always a pleasure for him, and there are no ex-athletes. We went skiing with him before giving birth, he liked it. Now it doesn't happen with a bit of time, you're not really going to train with the kids. I think Lena will finally decide whether to run or not by winter. But children require a lot of energy.
I was at home, doing light exercises, I missed the first training camp, I wanted to stay with my family as much as possible, take a break from skiing. I did. I came to the training camp and was like: "Yes, in principle I was not bored." (Laughs) I know what I'm preparing for. We were told it was 50/50 whether to hold a World Cup or not. We are all adults, we realize that most likely this will not happen. Will there be alternative international games with the countries we have… It would be great. I realize in my head that I can't sabotage the whole season. Wow three or four starts where I have to show.
Ski Tour last season, Davos ran, the form came, everything is fine and they say to me "Come on guys, you are preparing for the Olympics". And then it was said that they did it on purpose, so as not to be "cursed" anyway.
– If you're talking about the Olympic cycle, are you still keeping the next Olympics in mind?
– Not. One hundred percent no for the next Olympics. He decided a long time ago. As they say, you must leave on time. Yes, this is my favorite job, but I have to think about what to do after sports. I will stay near the ski races or move further. I used to go to practice and think about how to put my arm or leg, now you go and make a business plan. This is normal, this is life, everyone lives it.
In a situation with Klebo, I would act differently
– After the words about ambition and calmness, I remembered the conflict with Johannes Klebo at the World Championships in Seefeld. Wouldn't they be so aggressive now after the finish line?
– When the start signal sounds, the curtains are already closed, there is a ski slope and you drove! If she opens me up…
– Not. Now most likely not. I would either do it without the camera, or do it a little differently (laughs). You can't do that, run faster if you prove stronger. You don't have to press it.
– Of course it hurts, we trust each other 100 percent or even 200 percent. There are very few experts at this level. Yes, my family is athletic. But we are always in contact with him, we can come to each other at any time. There were all kinds of dialogues, for example: "If you don't come to the funeral, I will be offended!" (Laughs). In a single segment. He's funny! He works with the Italian team but he also fixed my training plans.
– Did the Italians train with you last year?
– Yes, we trained in our group, Federico Pellegrino, Francesco De Fabiani. Pretty good collaboration! I loved collaborating and it's something new for them and for us. Ah, that's what Marcus wrote! "How are you? Hello Sergey!"
Source: Ria
With a passion for storytelling and reporting, I am an experienced writer and Editor with a focus on sports. As an Author at News Unrolled, I write engaging stories on the latest developments in the world of sports. My articles have been featured on numerous global media outlets and my work has been highly praised by renowned editors.