At the Crystal Rose tournament in Minsk, which ended a week ago, the Russian gymnasts did not perform at full strength, losing gold medals in all-around and in the finals of certain events. Everywhere, the only one who fought on equal terms with the leader of the competition from Belarus, Alina Gornosko, was the world junior champion, European champion and laureate of the Russian championship Lala Kramarenko. RIA Novosti Sport explains why it has the potential to become the main star of Russian and world rhythmic gymnastics.
No one is likely to know more about a person than their parents. Lala's father, Dmitry Kramarenko, describes his daughter as incredibly stubborn, purposeful and hates losing. The only place there is for him is the first. And if you can still make allowances for the love of the father, dividing his words about his daughter in half, then you will have to believe the words of the athlete, the former goalkeeper and goalkeeping coach, with whom Dmitry Kramarenko now works.
Indirectly, the stubborn and complex nature of Lala is also confirmed by Irina Viner-Usmanova, comparing her new favorite with Laysan Utyasheva.
"She's a very talented girl, but she has a very complex character. I've been working hard on what I once worked with Laysan Utyasheva. She repeats many times and doesn't always listen to what her coach says. endless repetitions can resonate with injuries and I'm very worried about that in general, she is a star. she grew up among strong gymnasts and is following, and at some point, maybe she will overtake them, who knows" , – Viner -Usmanova told reporters.
The shadow of the "strong gymnasts" in Russia will be enough to hide half the planet from the sun. But most of all, Lala's career has been influenced by Dina and Arina Averina, who were at their peak after the 2016 Olympics in Rio and continued to compete after the Tokyo Games. It must have been tough for Lala in the shadow of the Averines – she just can't seem to get out of her "promising" status. So, no matter how much the referees admired him, pointing out his strengths and virtues, the attitude towards Lala as the undisputed leader of the team has yet to be given the green light. Hierarchy means a lot in rhythmic gymnastics. On the other hand, for Lala, aged 15-17, the division of medal responsibility for the country with her older and more experienced teammates can be considered a plus – her spirit had time to strengthen.
Speaking of mentality. There was a situation in Lala's career where she had to play with a crack in her heel as a team all over at the European Championships. The wound was discovered before the final exit with the tape, but removal was out of the question. Kramarenko's performance helped the Russian team win gold, and Lala later spent several months on the cast before recovering.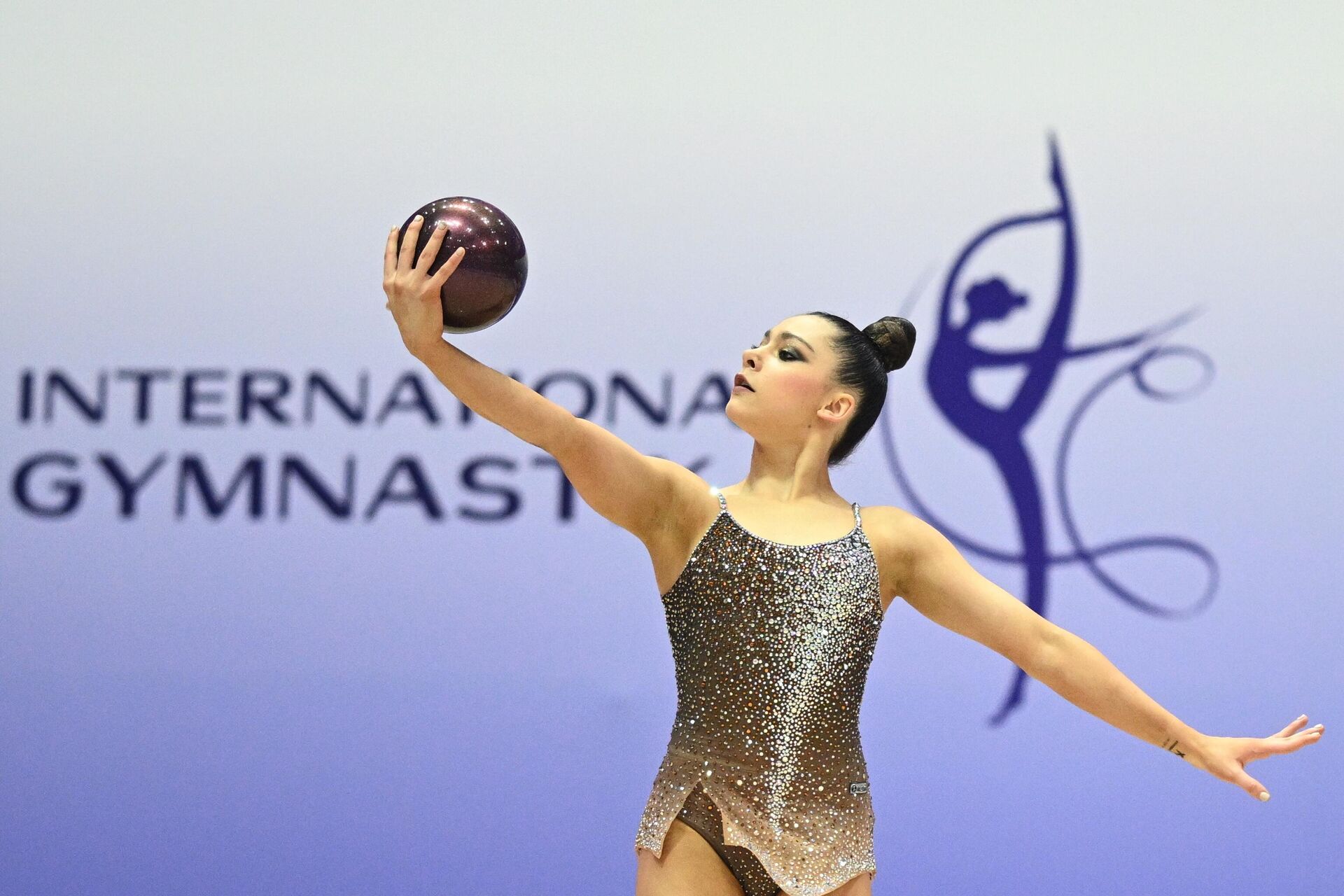 Russian gymnast Lala Kramarenko
However, in principle, there are no gymnasts in the Russian national team who do not have a strong character, otherwise they would not be able to withstand hours of training every day and the frenzied intensity of competition. In the case of Kramarenko, perhaps the main advantage is not the character, but the possibilities of his body – the elements that he shows.
Translated from Azerbaijani, "Lala" means poppy. Such a poetic name for the future gymnast was chosen in the international Russian-Tatar-Azerbaijani family. The same internationality marked the appearance of Lala – in gymnastics it is also called the word "texture". Kramarenko is different from most Russian athletes, he is long and thin with long legs, completely different – small and curvy.
Talking about the talents of Lala's daughter, her father draws a parallel with Alina Kabaeva and recalls how at the very beginning of her career she was not suitable for gymnastics. We all remember how it was – in childhood, a seemingly barren girl became a standard, a champion, a beauty and a wonderful athlete.
At the same time, Kramarenko's data for gymnastics are phenomenal. From the cradle – super flexible muscles and ligaments, a unique arch of the foot and a stable balance that allows you to perform incredible multi-turn turns.
Magically, Kramarenko's physical trait became his personality. Because twisting such turns like Lala could do would be impossible with long limbs. Not all great champions have a distinctive feature, but Lala Kramarenko does – a pirouette with bent legs. Officially registered by the International Gymnastics Federation in 2021.
It is clear that the exclusion of Russia from participation in international competitions, to put it mildly, did not help Kramarenko realize his crazy potential. Missing out on serious tournaments with strong rivals for a gymnast of her level – you can't imagine worse for motivation and fitness. But here all our gymnasts are on an equal footing.
It would be insanely interesting to look at Lala Kramarenko in the conditions of great starts under the new rules that came into effect after the Tokyo Olympics. Because these rules seem to have been written specifically for him – they reduce the importance of working with objects and glorify the beauty of the work of the body. Perhaps there will be a return to feminine, clean and harmonious gymnastics in the person of Kramarenko. It remains only to wait for the lifting of the ban on Russian sports.
Source: Ria
With a passion for storytelling and reporting, I am an experienced writer and Editor with a focus on sports. As an Author at News Unrolled, I write engaging stories on the latest developments in the world of sports. My articles have been featured on numerous global media outlets and my work has been highly praised by renowned editors.