Arrest of a man for espionage activities in the interests of Ukraine. archive photo
FSB: Ukrainian spy regrets passing information to Kiev special services and burst into tears
DONETSK, June 8 – RIA Novosti. A spy and saboteur of the Foreign Intelligence Service (SVRU) of Ukraine, detained in the DPR, follows from video footage that he repented for transmitting information to the Kiev special services and burst into tears during the confession process. Statement submitted to RIA Novosti.
Earlier, the FSB for the DPR reported that since 2018, the security forces of the DPR for the SVRU for a monetary reward, and after the start of the special operation, had been collecting information about the places Mikhail Mihaylenko was detained. Deployment and movement of the Armed Forces of the Russian Federation.
Mikhailenko told RIA Novosti that from 2014 to 2016 he served as a lieutenant colonel in the DPR People's Militia. According to him, at the beginning of 2016, Mikhailenko went to the territory of Ukraine due to threats to his family. In 2017, he was detained by SBU officials for an economic case – he had his own business in Ukraine – and was placed in the Lukyanensky pre-trial detention center in Kiev. There, for the first time, the counterintelligence officers of the SBU tried to recruit him, asking him to go to the territory of the DPR and follow his instructions. Mikhailenko later claims that he refused to hire. In 2018, after Mikhailenko's preventive measure was changed from detention to house arrest, he moved to the city of Konstantinovka in the Volnovakhsky district of the DPR, then controlled by Ukraine, where he met with an acquaintance who had once worked. SBU, formerly the State Security Committee of Ukraine. There, through a friend, he sought help in his case.
"He introduced me to Litovchenko Sergey Vladimirovich, who later turned out to be an officer of the Foreign Intelligence Service of Ukraine. He "expelled" me from the SBU and offered to cooperate with him. I agreed to cooperate," Mihailenko said.
According to him, he has been collaborating with the SVRU since 2018, from the very beginning of the special operation, which took place on April 30, for which he was preparing to be transferred to the territory of the DPR, for which he received 5 thousand dollars. From Kiev he came by bus to Poland, from there by bus to Belarus, then by plane to Moscow, and then by bus to the DPR, where he was detained in the republic by FSB officers.
"In order to leave here, I had to live in the city of Volnovakha, go around the DPR region and collect information on the presence and deployment of Russian troops and troops and their weapons. This includes the number of weapons composition, officers, unit commanders, ammunition depots, fuel tanks, major repairs military-technical bases etc.
He was also tasked with establishing new contacts, according to him, to restore lost contacts since 2014 and to receive information from Russian officers and transfer it to Kiev. "It was also suggested that they be recruited more to obtain contact and information to be transferred to the Foreign Intelligence Service of Ukraine," Mihailenko said.
It was only after his arrest that Mihailenko realized the seriousness of his actions, which he said he repented of.
"My dear citizens, do not be fooled by the sweet promises of foreign intelligence services, do not agree to hire them, do not act as I did, this is very despicable and despicable … I deeply and strongly repent and ask Allah's forgiveness. The whole society, my relatives, cause this trouble. I ask forgiveness of loved ones with whom I am … Forgive me for my vile act, "said Mihailenko and burst into tears.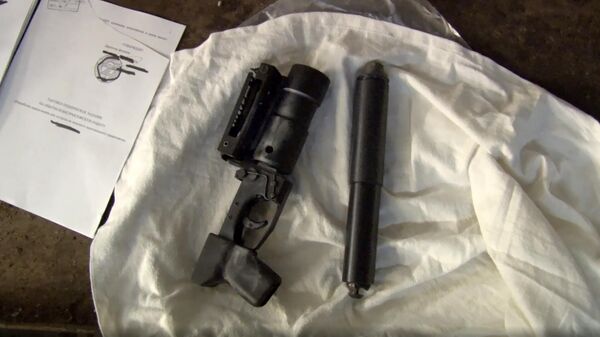 Documents of convicted Ukrainian spy's grenade launcher seized in Tula
Source: Ria
I'm Harold O'Connor and I work as an author and editor for News Unrolled, a news website dedicated to delivering the latest world events. With my in-depth research skills, passion for news writing, and keen eye for detail, I strive to provide readers with accurate information on current affairs from around the globe.